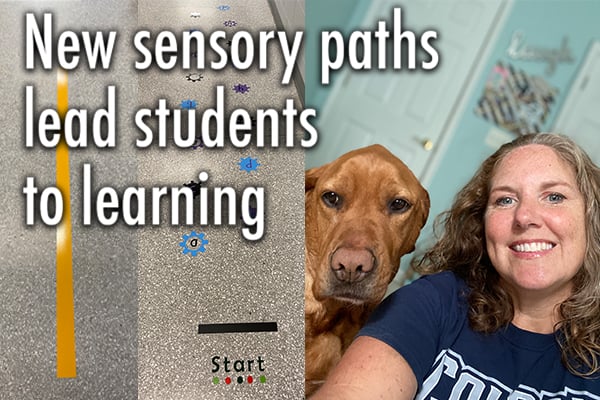 Kari Cassedy shared that one request she receives regularly from teachers is for strategies to help students who have sensory processing disorders or difficulty with self-regulation. Cassedy is an occupational therapist (OT) who serves at five PWCS locations, Washington-Reid Preschool Center; Coles, Marshall, and Minnieville Elementary Schools; and Charles J. Colgan Sr. High School.
In addition to working with individual students, as an OT, it is her job to develop strategies teachers and school teams can use to help students focus so they can learn. One such strategy is therapeutic spaces, which are areas within the school designed for movement and learning. Recent studies in neuroscience have found that physical activity and movement can change the way the brain works and accelerate a child's learning.  
Finding the space and funding to create dedicated areas can offer challenges for schools. However, thanks to support from the school principals and a successful grant proposal she submitted last year through SPARK, the education foundation for PWCS, Cassedy's new Cricut Air 2 cutting machine helped her install therapeutic spaces, also known as sensory paths and activity walls, at Marshall and Minnieville Elementary Schools over the summer. Cassedy also received support from her project assistant, her dog, Biscuit, who is training to be a therapy dog.    
Therapeutic spaces can be created in a hallway, classroom, or other existing locations and are designed to give students an opportunity to redirect their actions and promote and guide movement by following fun decals.  
"The therapeutic spaces are meant to improve a student's balance, motor coordination, and spatial awareness, while at the same time getting their bodies in an optimal arousal state for learning," said Cassedy. "This is especially exciting for our students with special needs, especially those with sensory processing disorder.  Research shows that sensory play builds nerve connections in the brain's pathways, which lead to the child's ability to complete more complex learning tasks and can improve classroom behavior."   
Movements on a sensory path may mimic a crab crawling, bear walking, a rabbit hopping, walking heel-to-toe, or even doing wall pushups. Components may be a lily pad and frog decals showing students to frog hop from one lily pad to the next. Or they might consist of feet decals, placed in various directions or through a maze that encourages them to practice stepping, jumping, and twisting. Examples of an activity wall include a large qwerty alphabet to practice wall typing, or sight or spelling word decals to work on eye-hand and motor coordination. Both sensory paths and activity walls give students the opportunity to practice balance, motor coordination, eye-hand coordination, spatial awareness, and self-regulation and provide a break, allowing them to return to class better able to focus and attend to learning. 
"By having my own machine and a start-up supply of materials, I can help all of my schools create these spaces," said Cassedy. "This will help the students on my caseload directly, while also providing an opportunity for all the students in the school to participate and benefit from the sensory activity. We are really looking forward to when all the students can return, and I believe these spaces will have a tremendous impact on our students' ability to focus and learn."