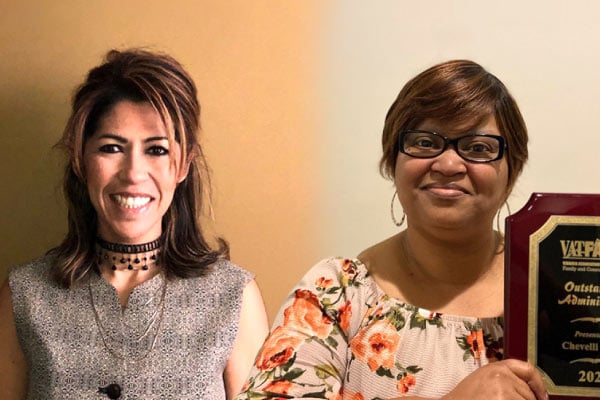 Chevelli Smith, assistant principal at Gar-Field High School, received the 2020 VATFACS Outstanding Administrator Award, and Susan Gonzalez, Family and Consumer Science teacher at Forest Park High School, received the 2020 VATFACS Outstanding New Teacher Award.
Prior to becoming an administrator, Smith was a classroom teacher for 19 years and is currently an assistant principal supervising the Family and Consumer Sciences (FACS) department at Gar-Field High. Smith was recognized by VATFACS for being instrumental in increasing the number of FACS teachers at Gar-Field and the number of FACS course offerings over the past three years.
Julia Henderson, a Gar-Field Family and Consumer Sciences teacher, praised Smith for her leadership and dedication to the field by stating, "She is constantly supporting teachers and students to grow and learn by building a culture that is inclusive."
Gonzalez has been teaching Family and Consumer Science at Forest Park High since 2016. VATFACS recognized the innovation Gonzalez demonstrated through facilitating a student project that fostered leadership and a commitment to help others.
"It is my strong belief that students benefit from hands-on activities that allow them to practice their soft skills," said Gonzalez.
Through their efforts, the students were able to donate funds to multiple community projects learning the importance of giving back to the local community.
James Smith, assistant principal at Forest Park, commended Gonzalez for her spirit and passion in the field, sharing, "Mrs. Gonzalez is a testament to the importance of Family and Consumer Sciences in the 21st century as a catalyst for the development of each student's career skills."
The VATFACS is an organization dedicated to promoting Family and Consumer Sciences in Virginia public schools to improve the lives of students, their families, and the community.