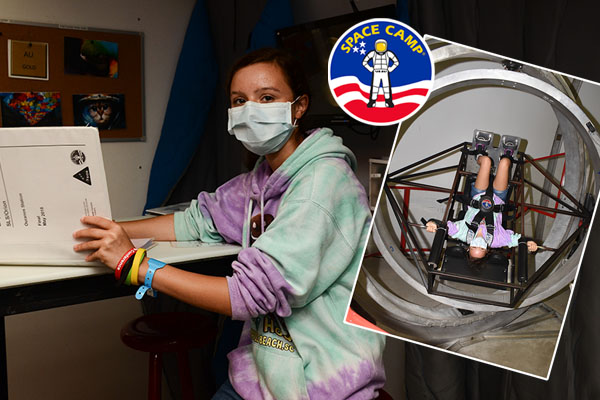 Isabella Allen, an eighth grader at Benton Middle School, took a trip to Mars over the summer. It may not have been an actual trip to the red planet, but the simulators at the National Aeronautics and Space Administration's (NASA) Space Academy made for a realistic experience.
NASA's U.S. Space and Rocket Center in Huntsville, Alabama has been hosting various camps since 1982. Attendees enhance their communication, team building, and leadership skills through various science, technology, engineering and math (STEM) activities. For six days and five nights, students stay at the center, sleeping in quarters that resemble those at the International Space Station. The 12-to-14-year-old camp attendees train in simulators like those used by NASA astronauts.
One of Allen's favorite activities was a ride on the one-sixth gravity chair, which simulates the moon's gravitational pull, and the multi-axis trainer, which simulates the disorientation that astronauts feel as they re-enter Earth's atmosphere.
Allen explained, "I got to see a how a tumble spin would feel in space on the multi-axis simulator, how it felt to exit and enter Earth's atmosphere on the G-force simulator, and how it feels to walk on the moon."
Allen served as the flight engineer for her group's mission to Mars. "I got to drive and operate a rover on Mars to collect minerals needed for the mission," she shared.
Allen also learned about the history of space exploration and rocketry. The camp piqued Allen's interest in a future career with NASA or SpaceX.
The press release from NASA's U.S. Space & Rocket Center states, "Almost one-million trainees have graduated from a Space Camp program since its inception." NASA astronauts Dr. Serena Auñón-Chancellor, Christina Koch, Dottie Metcalf-Lindenburger, and Dr. Kate Rubins, are among these graduates.