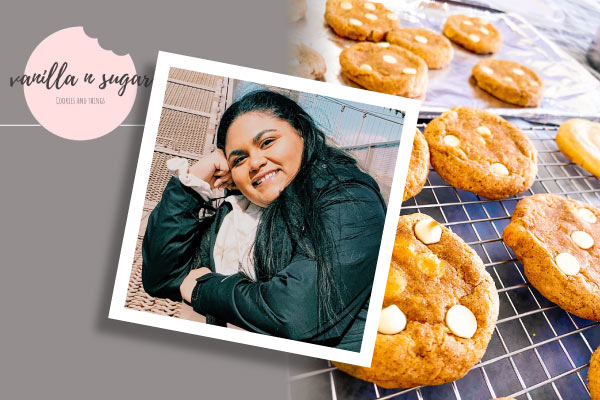 At just 8 years old, Anjali Badrinarain started baking desserts on her own, and at 11 years old, she was experimenting with her own recipes. Baking became a passion for her, and that passion has since blossomed into a business. In September, the Woodbridge High School senior opened Vanilla n Sugar, an online dessert business.
The idea of opening a business was always a thought, but it wasn't until this year did Badrinarain really feel like she had the time to make it happen.
"I was making various sporadic orders until [the COVID-19 pandemic]. Then, with the amount of time that was handed to me, I wanted to do something with it," said Badrinarain.
In the beginning of this year, she worked with her father to figure out the logistics of the business, while creating the Vanilla n Sugar website. Now, the modified school schedule allows her a little extra time in the morning to bake the orders.
"I get up at 6 a.m. every day and take the orders I get from the prior day," said Badrinarain "I generally bake from 6 to 10:05 a.m. on Tuesdays and Thursdays and 6 to 8:45 a.m. on Wednesdays and Fridays."
Her menu currently features 13 flavors of cookies, ranging from the classic vanilla and sugar to seasonal pumpkin and spice. These are original recipes that Badrinarain adapts from base recipes found online.
While a ton of research and experimentation goes into perfecting one recipe, she also draws inspiration from special people in her life.
"Almost every cookie has a story behind it," shared Badrinarain "[For] chip n dough, my dad loves chocolate chip cookies. I spent years perfecting the chocolate chip cookies I sell today. [For] coffee n chip, my mom loves coffee. One day, I told her that I was going to figure out a way to make her favorite thing to drink into a cookie."
While unable to pinpoint a true inspiration behind the business itself, Badrinarain does attribute its startup to her family. Without their support and guidance, Vanilla n Sugar may not be what it is today.
"If it wasn't for my mom, I don't think that I would have ever gotten into baking. And, if it wasn't for my dad, I wouldn't be learning how to run it," said Badrinarain "It may sound kind of cheesy, but my family is the biggest factor in helping me make my dream a reality."
Looking forward, even though she is still unsure of post-graduation plans, Badrinarain does hope to continue the business in some capacity. She even has plans to expand the menu.
"The cookies on the menu are just the beginning, as there are plans to add more items in the near future."
Follow Vanilla n Sugar on Twitter or Instagram at @vanillansugar1.