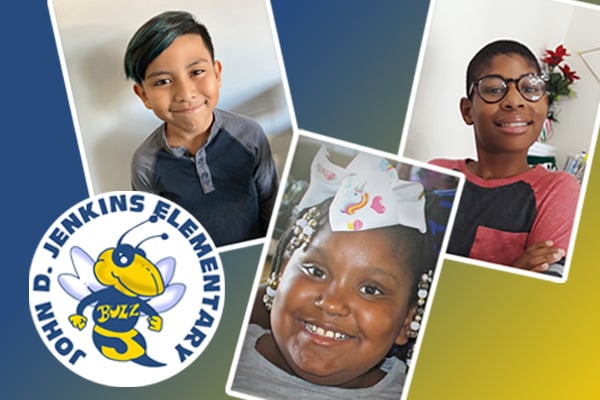 John D. Jenkins Elementary School, in partnership with the National Coalition of 100 Black Women Prince William County Chapter, Inc., (NCBW/PWCC) implemented a new afterschool mentorship program called the "Leader-in-Me-Leadership Financial Literacy Program." In the 2019-20 school year, the program helped 40 students in grades three through five open savings accounts at Apple Federal Credit Union (AFCU), a partner of the program.
Key members of the community recently gathered on a Zoom call to congratulate the top three students who have saved the most money. The winners were Ethan Withers, a fifth grader, who took first place with a savings of $168. He was awarded a $50 prize to contribute toward his savings. Diego Lazo, fifth grade, and Kiana Savage, third grade, both tied for second place. Each will receive an award of $25 to contribute toward their savings.
Occoquan District School Board member Lillie Jessie congratulated the program and the winners stating, "Anything the Coalition [NCBW/PWCC] touches turns to gold. Congratulations to our students for their achievements in financial literacy."
Associate superintendent for eastern elementary schools, Nathaniel Provencio, offered the following remarks to the financial literacy program coordinators and the students, "Thank you all for your continued flexibility and patience during these times. Thank you, Principal Marlene Coleman, for your continued leadership. Financial literacy is an important skill. Thank you to Dr. Alice H. Howard from NCBW/PWCC, and Principal Coleman for bringing this program to Jenkins Elementary. Financial literacy is not only about finance. It is also about learning how to invest in yourselves so you can invest in others."
The NCBW/PWCC chapter members were instrumental in implementing the afterschool program that stressed money saving skills and leadership. Going above and beyond, NCBW/PWCC members raised money to donate to Jenkins Elementary students to open their own savings account. They devoted their time and energy into the program, helping students develop important skills in leadership, mathematics, and financial literacy.
Angela Savage, Title I math teacher at Jenkins, was also instrumental in supporting the financial literacy program. Savage provided mathematics instruction and games as part of the program structure.
In an NCBW/PWCC newsletter highlighting the important work the chapter has conducted with the financial literacy program at the school, Coleman shared, "They provided students with monthly hands-on engaging mathematics and financial literacy activities, and always encouraged them to excel in leadership by being great role models. I look forward to another successful year partnering with them because they lead by example."