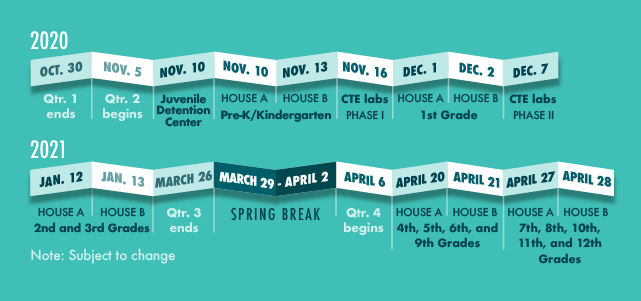 On Wednesday January 6, the Superintendent presented an updated plan to the Prince William County School Board for the return to in-person learning for the remaining grades that have not yet returned. The plan, first and foremost, places the safety and health of Prince William County Public Schools (PWCS) students and staff at the forefront of all decision-making. In addition, the plan recognizes that for many of our students, in-person learning is critical to their success.

At this time, second and third grade will return next week (House A January 12, House B January 13). The Superintendent's plan delays in-person return for grades beyond third grade until the fourth quarter, with the hope we see a decreasing trend in COVID-19 that lowers the overall risk by that time, particularly with the coming of the vaccine. Early Thursday morning, the School Board voted to have further discussion at a special meeting next Tuesday.

Under the Superintendent's plan, fourth, fifth, sixth, and ninth grades are now tentatively planned for House A to return April 20 and House B to return April 21. Seventh, eighth, 10th, 11th, and 12th grades are tentatively planned for House A on April 27 and April 28 for House B.

These return dates are planned to coincide to begin two weeks beyond the spring break, allowing for the monitoring of any increase in COVID-19 positivity that may occur as a result of the break.

Current start times would continue for all grades until the April 20 return. At that time, based on the current anticipated in-person enrollment, start times would revert to an approximate 7:30 a.m. start for high school; middle schools would start at approximately 8:15 a.m., and elementary bells times will vary with most starting around 9 a.m.

Until the additional grades return in-person, additional student support methods will be explored, including in-person and virtual tutoring options after school and on Mondays. Vulnerable learners will continue to attend in-person four days a week. Pre-K through third grade and CTE will also continue to attend in-person on days as previously planned.

This delay aligns to both the CDC and Virginia Department Health/Virginia Department of Education guidance that recommends for schools with moderate or higher risk of transmission (which includes PWCS), specific learners should be prioritized for limited in-person instruction, including willing students with disabilities, English learners, and pre-K-3rd grade students.

Additionally, the ability to implement all the necessary mitigations becomes more difficult at the secondary level. Specifically, the ability to cohort in a single classroom is not possible due to the academic requirements at the secondary level requiring changing classrooms. This will increase risk in areas such as hallways and make determining close contacts very difficult.

Lower community spread, brought by vaccinations, moving beyond winter and flu season, will hopefully help mitigate this risk and allow us to return to secondary in-person in April. The CDC made recommendations on who should receive the COVID-19 vaccine first. The Virginia Department of Health (VDH) is reviewing the recommendations for Phases 1b and 1c and will provide further guidance soon. The Governor of Virginia announced Wednesday, January 6, that teachers and educators will be included in Phase 1b.
Patrons may watch the January 12, 2020, School Board meeting by tuning in at 5:30 p.m. on pwcstv.com and clicking on the "Watch Live" link, or by watching Comcast Channel 18 or Verizon FIOS Channel 36.