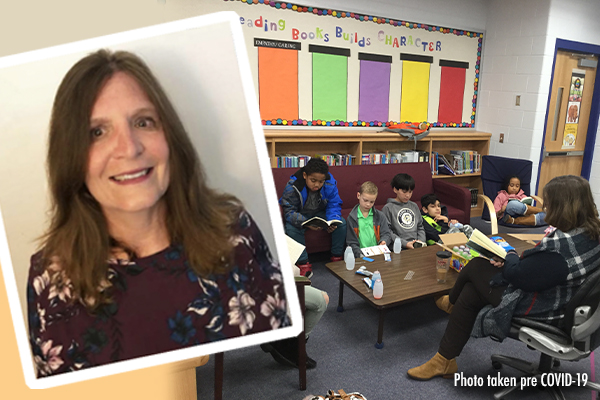 The Virginia Association of School Librarians (VAASL) has named Janice Herritt, principal at McAuliffe Elementary School, as the 2020 VAASL Administrator of the Year. This award is given to an administrator who shows support in the development of an exemplary school library program.
Janelle Jampole, librarian at McAuliffe Elementary, nominated Herritt for the prestigious award. In her nomination letter, Jampole noted Herritt's commitment to enhancing the school's library program through innovation and is confident that her leadership will translate during this unprecedented school year.
"Mrs. Herritt is always willing to embark on new adventures with us," said Jampole. "We are sure to travel some new paths this year, and will do so fearlessly knowing Mrs. Herritt will not only be joining us on the journey but will be leading the way."
Serving as a school administrator for over 10 years, Herritt feels fortunate to be a part of the Challenger community and is proud of their expanding library science program.
"I feel honored to be recognized. It is a daily privilege to work with our community and amazing staff who are at McAuliffe, where everyone is striving for excellence," Herritt shared. "We have really focused on making the library a multi-faceted educational spot in the center of the school. Through our library program the past couple of years we have been able to have author visits, and Bal-Vis-A-X, Children's Engineering, and a Maker Space are just a few examples of the many great things that have come out of our library science programming."
The mission of the VAASL is to be the recognized voice for excellence in Virginia's school libraries, promoting lifelong learning and academic success of all students. This is the second year in a row a Prince William County Public School's principal has received the Administrator of the Year Award from VAASL.