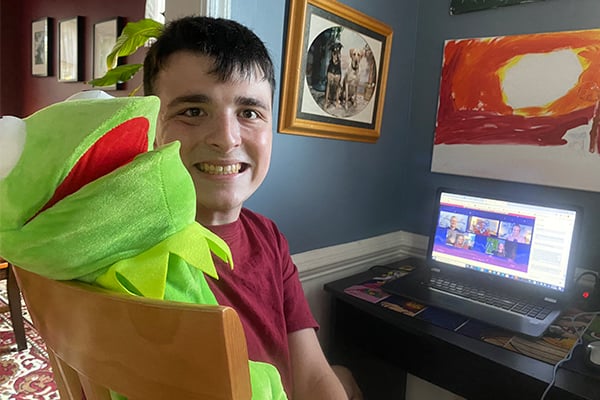 The show must go on, even when it comes to the "Sesame Street Live" tour. The virtual live show provided not only excitement for Charles J. Colgan, Sr. High School junior Nathan Blevins, but a learning opportunity.
Blevins, a budding puppeteer, first became interested in puppets as a fourth-grader. During his fifth-grade school year at Bel Air Elementary School, he took to the stage and performed in the talent show with his puppet King Squashbottom.
The "Sesame Street Live" show is typically performed in arenas nationwide. However, the COVID-19 pandemic forced the cancellation of the tour, moving the production online. The virtual show allowed the actors to perform and the opportunity to interact with the audience. Much to Blevins' delight, they shared their personal stories of how they landed their roles on the show and how they felt about playing the characters.
"It was amazing to see live people who I used to only hear. People who make other people laugh and smile, from children to grownups," Blevins said.
A highlight in the actors' story-sharing was explaining what it was like meeting Jim Henson, the famed puppeteer. Henson developed Blevins' favorite puppet character, Kermit the Frog. Blevins shared that he enjoys the complexity of the character Kermit the Frog and was inspired to learn how to play the ukulele so he can sing like him.
Blevins shared, "Some people might find puppets scary, but to me, they inspire me. I can make something that might be scary into something that is not so scary, and people like it."
Blevins' experience is a great example of how students are continuing career exploration and enjoying hobbies despite cancellations and closures due to the COVID-19 pandemic.