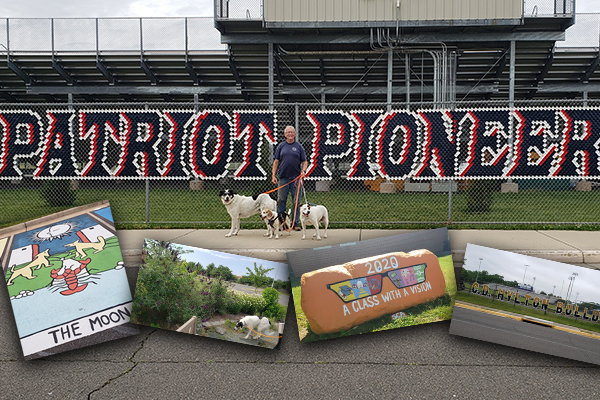 My lovely and resourceful wife Gale devised the 12 High School Walking Challenge to provide socially distant exercise for ourselves, and our three dogs, Molly, Woofy, and Jackson. This challenge consisted of walking the entire outer perimeter of each of the 12 high schools in Prince William County, as well as walking around the buildings themselves.
We normally followed the inside of the outermost fences surrounding the schools. Surprisingly, the grounds were quite large, and it would take us between 40 to 50 minutes to cover the perimeter and around the buildings.
Besides exercise, the 12 High School Challenge allowed us to visit all corners of the county and see the diverse and unique attributes each school possessed in terms of architecture, landscaping, athletic fields and stadiums, and other student facilities. We completed these walks between May and July 2020.

Here are a few of what we thought were the more interesting attributes of each school:
Battlefield High School: The entrance area of Battlefield was graced with a beautiful artificial waterfall that has a continuous flow of water and is festooned with various plants, many of which were in bloom. The schools is located on Graduation Drive. Maybe that is why in 2019, Battlefield had the county's highest on-time graduation rate at 98.7 percent!

Brentsville District High School: Brentsville has a beautiful setting, as its grounds are elevated above surrounding farmland enabling panoramic and long-distance views of the lush fields. At one point in our walk, while viewing a wheat field, I was reminded of the "amber waves of grain" described in the second lyric of "America the Beautiful. "

C.D. Hylton High School: This school is named for Cecil Hylton, developer of Dale City. Walking here brought back a lot of memories, as our two sons, Tom, and Brian, both attended the school, graduating in 1998 and 2000, respectively. The peaceful and empty athletic fields hosted many geese, which Jackson delighted in chasing.

Charles J. Colgan Sr. High School: Colgan is one of the newest, largest, and most architecturally impressive of the Prince William County Public schools. The front entrance, with its atrium, is particularly pleasing. It also has a large aquatic facility with several pools.

The creativity and artistry of Colgan students was showcased by its parking lot art. Many of the schools had allowed graduating seniors to paint a parking spot that would convey their feelings about reaching the graduation milestone. Colgan students far exceeded all schools in providing inspiring, humorous, and "off-the wall" paintings.

Freedom High School: Freedom memorializes the 9-11 tragedy with a huge walk-on sundial on its front lawn. The sundial has brass markers positioned between the Roman numerals to show the exact times each 9-11 aircraft crashed. Freedom was also the only school that had its own greenhouse, unfortunately surrounded by weeds during the shutdown.

The school motto is "Where Eagles Soar." Ironically, there were no eagles soaring here. However, there were hawks soaring everywhere. They had built nests high up on the ballfield lights. The parent birds were teaching youngsters to fly, and it was like watching aerial dogfights: twisting, turning, diving, and soaring. Then landing smoothly in the nest.

Forest Park High School: This school is neatly tucked into a suburban community and includes a large pollinator garden. There is a shady trail that will take you to an adjacent housing community.

Gar-Field High School: The student gardens were the most extensive and well cared for of any school. There were Virginia wildflowers and various flowering plants, as well as vegetable gardens, all labeled so the passerby could know what they were looking at. There was also nice landscaping, with mulch, stone pathways, and observation tables.

The other unique attribute was the huge baseball that sits behind the backstop area of the baseball field.

Osbourn Park High School: The grounds of Osbourn Park are adjacent to the historic Connor House, a stone farmhouse built around 1820, that served as a headquarters to both Union and Confederate Armies during the Civil War. Also, the school grounds include a memorial garden, with small stones and markers giving touching tributes to nine students and one staff member who had died.

Patriot High School: Patriot, like Colgan, is also new, large, and architecturally impressive. This school has a beautiful setting, surrounded by several farms, where you could see horses and cows. In May, the farmer's fields were filled with seas of bright yellow buttercups. On a sunny day, it was stunning.

In addition to parking lot art, they allowed their seniors to paint rocks commemorating their graduation.

Potomac High School: Potomac is an older school that is surrounded by heavy forest. Its most unique feature is that a county transportation maintenance facility (think school buses) is located adjacent to the grounds, along with some large fuel tanks and gas pumps.

Also, when walking the far perimeter, we spotted a red fox and Jackson tore off after him into the woods, shortly returning tired and winded.

Unity Reed High School: The most impressive thing here was the large number of huge boulders scattered around the school grounds. Each boulder had been colorfully painted by either the graduating or the upcoming classes of students.

Woodbridge High School: Woodbridge had an impressive football stadium because it is sunken, located down a large hill from where the school sits. Very impressive view. Also, I enjoyed using the outdoor pullup bars; no other school had them.
An interesting attribute involving multiple schools was that schools built around the same time seem to share similar architectural designs. Here are some examples:
Two of the oldest, Woodbridge (1974) and Gar-Field (1972), are the only schools that have drive-through tunnels beneath their buildings. The buildings also share similar layouts and type and color of brick.
Two other older schools, Unity Reed (1973) Osbourn Park (1975) both have attractive covered breezeways across the front of the buildings that must provide welcome shelter for students entering or exiting their buses on rainy or snowy days.

Four of the middle-aged schools, Hylton (1991), Forest Park (2000), Freedom (2004), and Battlefield (2004) feature similar brick and block, as well as comparable layout and appearance.

Two of the newest, Patriot (2011) and Colgan (2016), both feature similar layouts, with atriums at their entrances and metal roofing.