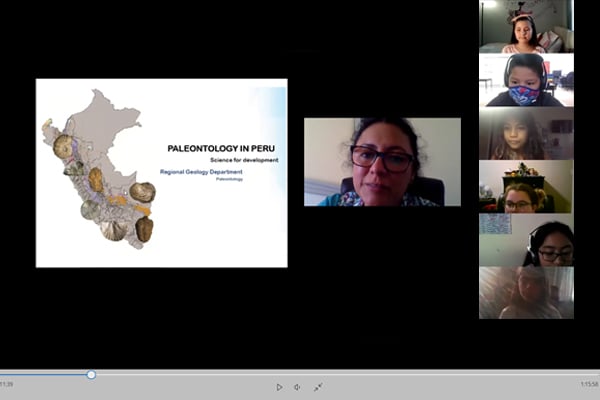 One part of the PWCS fourth grade science curriculum is studying minerals, rocks, and ores found in Virginia. Wendee Sukanovich, a fourth-grade teacher at Enterprise Elementary School, introduced the natural resources unit to her students and explained that geologists are scientists who study rocks. One student in her class shared that her aunt is a geologist in Peru.
Sukanovich immediately thought it would be great if the aunt could share her experiences with the class.
"Anytime we can connect what we are learning to the real-world and exposure to careers, I am all for it," shared Sukanovich.
After working out some logistics, two classes of fourth grade students at Enterprise Elementary were talking with geologist, Luz Tejada-Medina, via Zoom. Tejada works for the Instituto Geológico Minero Metalúrgico (INGEMMET) in Peru. The interview was conducted in Spanish, so Janira Collado, an English as a Second Language (ESL) Teacher at the school, interpreted for the students. Collado also was able to talk to Tejada ahead of time to welcome her and share a little about the class, school, and what the Standards of Learning (SOL) connections are to geology. Tejada's niece, Camila, introduced and welcomed her aunt to the class.
Tejada shared about the field of geology and her focus on fossils. She also talked about rocks and minerals, what they are, and how they are formed. Students asked questions and were very involved. Some students asked their questions in Spanish. Tejada thanked the students and told each student their question was important. At the end of the presentation, some students showed rocks that they had found to Tejada.
Sukanovich was thrilled with the response from the students. She shared, "This was a wonderful opportunity to have a scientist visit our classroom from a different country as well as extend our classroom community beyond our school walls. This was literally a World-Class opportunity."