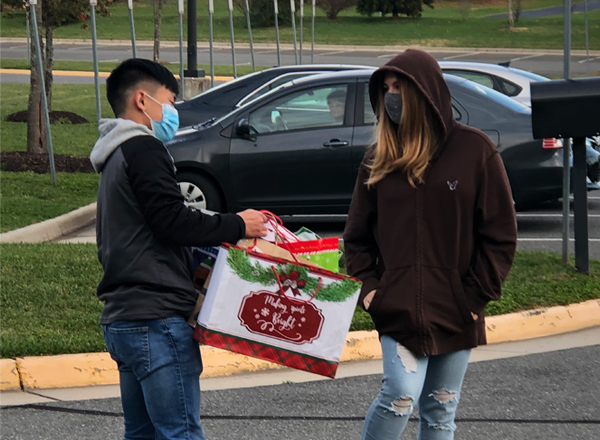 The season of giving is in full swing at Patriot High School. This year, students in the Key Club and National Honor Society (NHS) helped collect over 350 toys with an estimated value of $7,000. Members in the community participated in a "Drive-By, Drop-Off" in the first week of December, collecting over 100 toys on the first day, and over 300 toys on the second day, including over $200 worth of gift cards. The toys and gift cards will go to the Northern Virginia Family Services (NVFS) Campus.

The idea to gift toys to the NVFS Campus came to Sharon Shipman, social studies teacher and NHS club advisor, after she saw a mom asking on a social media platform if anyone could sponsor her family for the holidays, as they had no money for gifts this year. In a brainstorming session Shipman had with students and after doing further research, it was decided that donating to the NVFS Campus was a great idea.

NVFS, is a nonprofit organization that provides resources for the homeless. The campus is a family shelter located in Manassas and currently has 92 beds and is the largest family homeless shelter in Northern Virginia. From their website, approximately 40 percent of the shelter's guests are children.

Patriot seniors and club officers, Cy Hwang, Zahra Malik, Rishi Sheth, Kerris Watson, and Melinda Wong, helped to organize, collect, and promote the drive. They set up a SignUpGenius for the community to use to sign up for gifts specifically requested by families from that shelter with children ages 5-18. There was an overwhelming response, and the students were touched by the generosity of the community.
Key club member and current sophomore, Mia Donnan, shared, "I donated the toys because I feel the less-fortunate children deserve a magical Christmas just as much as any other child. Donating the toys was a simple act that may have made a needy child happy, which makes me feel good."

NHS club member and current junior, Peyton Benoit, recognized the importance of giving in these challenging times, "It felt really good to be able to bring joy to a child in need this holiday season, especially this year with everything going on," she shared.

Shipman echoed the sentiment, stating, "The community really opened their hearts this year, more so than ever, maybe because of our current situation. There were families bringing in $50 gift cards, and one family brought seven beautifully wrapped gifts for children in need. I'm tearing up just talking about the acts of generosity this year."

For more information on the Northern Virginia Family Services campus or other ways to contribute to the homeless shelter, please visit their website.