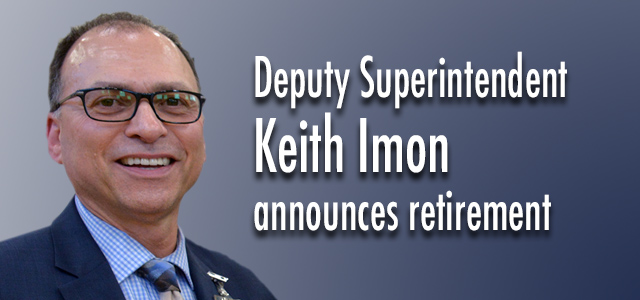 Keith Imon, deputy superintendent for Prince William County Public Schools (PWCS), is retiring after 16 years with PWCS and a total of 45 years in public education. Prior to being named deputy superintendent in 2017, Imon served as the Division's associate superintendent for communications and technology services for 12 years. His retirement is effective June 30, 2021.
In his remarks at the special School Board meeting on January 12 announcing Imon's retirement, Superintendent of Schools Dr. Steven L. Walts said, "He has served in a great capacity as the third deputy superintendent of the Prince William County School Division...I've worked with Mr. Imon in both the Greece Central School District as an assistant superintendent and here in Prince William, for a total of 23 years, and that is a lot of service."
Walts expressed his personal appreciation for Imon's support, particularly during the pandemic, and thanked him for doing a "super job" on keeping his part of their agreement to buoy each other and not both be "down on the same day."
"Mr. Imon is a superior educator who is intelligent, task oriented, innovative, a problem solver, and a wonderful human being as the icing on the cake!" Walts later added.
As associate superintendent, Imon focused on enhancing student learning and community engagement through the power of communications and technology. He guided the integration of technology into classroom instruction and crafted the Division's technology improvement plan. Imon led successful legislative lobbying for PWCS on a host of educational priorities. His outreach efforts helped make PWCS and its SPARK Education Foundation national leaders in securing Division and school business partnerships and support, generating approximately $4 million in annual revenue and extensive in-kind assistance for students and teachers.
In turn, Imon, who started out as an elementary school teacher, thanked Walts
in the retirement letter he submitted to him on January 12,
for always remaining focused on doing what is in the best interests of students, despite complicated challenges. And he shared his gratitude for Walts' leadership, mentorship, and friendship during their time together.
"We set out to create and implement the School Division's new mission of
Providing A World-Class Education
," said Imon. "And while such a mission can never be fully realized, as it is an ongoing journey and ever-changing undertaking, I truly believe that you assembled a leadership team that has successfully worked to make our mission a reality. Having worked in three states and five school divisions, I can honestly say that the professionalism, knowledge, collegiality, and camaraderie of the team is the absolute best."