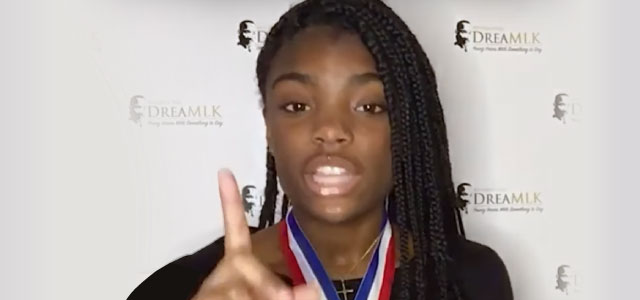 PWCS student talent was everywhere on display as members of the Martin Luther King Jr. Virtual Community Choir performed and graduate and former program winner Norman Jones III gave a moving memorial tribute to Congressman John Lewis, to kick off the 2021 Martin Luther King Jr. (MLK) Youth Oratorical Competition and Program held on January 18, 2021. Yet, creative flair, combined with hard work, time, and effort, were nowhere more evident than in the impassioned speeches of this year's student presenters, three of whom are PWCS students: Nyela Asterilla-Anderson, Freedom High School; Amber Austin, Patriot High School; and Zion Fozo, Potomac High School. Congratulations to Nyela, a ninth grader, who took second place in this year's audience-driven competition.
Now in its 31st year, the oratorical program is sponsored by the Prince William County Alumnae Chapter of Delta Sigma Theta Sorority, Inc. (PWCAC DST) in affiliation with the Delta Research and Educational Foundation. Due to the COVID-19 pandemic, the sorority opted to pivot from its traditional format of promoting school competitions, a regional competition, and then the in-person event at the Hylton Memorial Chapel on the King holiday, to a free, virtual performance and call for text voting from the viewing audience to select winners. The fourth and fifth grade writing contest was not held this year. Those chosen for this year's presentations were four of those recognized from the 2020 event, who gave new speeches based on a new theme, "Beyond the Dream: Young Voices with Something to Say."
Community leaders, educators, parents, students, and supporters from across Prince William County and other areas signed on to listen, cheer, and post messages of support and encouragement for the students who took on the inspiring challenge of echoing Martin Luther King Jr.'s compelling message of peace and brotherhood through oratory. Rather than performances and speeches before judges and a live audience of thousands, this year's program was broadcast online via the
sorority's YouTube channel
.
PWCS School Board member Lillie Jessie (Occoquan District), who is also a sorority member, is the founder and first chairperson of the MLK Youth Oratorical. This year's program included a historical prelude featuring remarks from Jessie and highlighting portions of Dr. King's original speech.
In a letter of support, School Board Chairman-At-Large Dr. Babur Lateef expressed his appreciation to PWCAC Delta Sigma Theta Sorority and congratulated all the presenters. "This celebration is not only a time to remember Dr. King, but also to celebrate the diversity of the participants in the youth oratorical contest, and how they define the inclusive world imagined by Dr. King," he said.
"By introducing thought-provoking questions that stretch their minds, we help young people learn to grow. The parents, teachers, volunteers, and members of the Delta Sigma Theta Sorority who have helped with this virtual event and inspired their students on this educational journey deserve high praise and our gratitude," said Superintendent of Schools Dr. Steven L. Walts, who also noted that the choice of this year's theme helps us consider our "place in the world and imagine opportunities to affect valuable change."
The event, including the student presentations, is available for viewing from the
PWCAC DST website
.