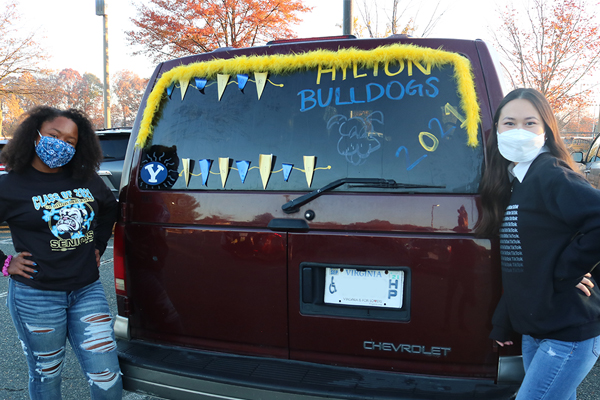 C.D. Hylton High School celebrated the Class of 2021 with a senior sunrise event. This event has been a Hylton High tradition for the past few years. It is primarily a student-led event organized by the senior class officers. This year was challenging due to the pandemic. However, the class officers submitted a plan to the administration that included safety guidelines and social-distancing protocols.
The class officers wanted to make sure that they could keep the same energy and spirit that they had last year. Many of the students who had not awakened before 8 a.m. in a long time, came out early to Hylton's parking lot to watch the sunrise together.
Most of the students had not seen their classmates and friends since March, so they were excited for the event. Students decorated their cars, danced to music provided by Assistant Principal Tony Switzer, and took pictures under a balloon arch.
Enjoying this time together brought back a sense of community and comradery. Assistant Principal Betsy Campagna shared, "There was a great turnout. The event fostered a sense of hope, positivity, and social distanced togetherness for the Class of 2021." Senior Class President Jackie Mitchell summed the event up by stating, "All of us coming together to take pictures, listen to music, and have fun with our classmates brought back that sense of community and spirit to Hylton. Taking pictures under the balloon arch, wearing our senior class shirts, and seeing decorated cars and posters made the event a memory that will last a lifetime. The pandemic can't stop the class of 2021."