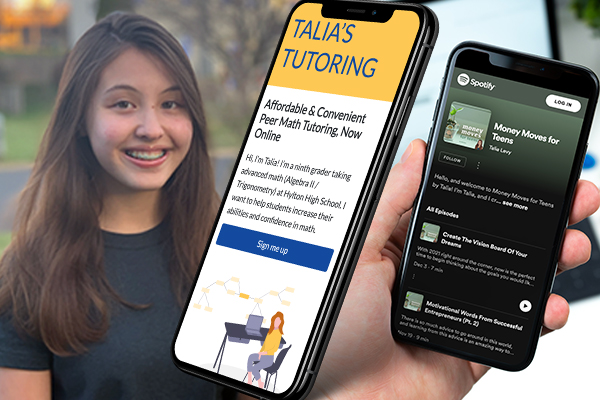 Whether she's recording an episode of her original podcast, "Money Moves for Teens" or working with kids through her math tutoring business, Talia Levy, a ninth-grade student at C.D. Hylton High School, enjoys helping others.
Started back in May, "Money Moves for Teens" educates kids on money management and encourages them to begin preparing for their future. The topics include business, personal finance, and entrepreneurship.
"The business part is about marketing and branding, and the personal finance is about budgeting and investing," said Levy. "The entrepreneurship part encourages teens to start a business or start their ideas."
Levy searches through many websites to find the most credible information and compiles her findings into a grand list. Working two weeks ahead of her episodes, she refers to that list for episode topics and talking points. While it is a lot of work to produce a podcast, Levy is continuously supported by her family, too.
"My family is my main support system, I'd say," shared Levy. "I do a majority of the work, but my mom and dad helped me get it started and now keep it going."
Just as the podcast has proven to help others, it's also provided benefits to Levy.
"[Creating the podcast] has improved my writing and speaking skills," said Levy. "But, it also just feels cool to turn a topic that may seem like nothing into something for people."
Her service does not stop there. When she's not working on her podcast, Levy can be found tutoring kids in math.
"I started tutoring one kid [when I was] in sixth grade," shared Levy. "Then, at the end of seventh grade, beginning of eighth grade, I felt like I could take it more seriously."
From there, she started Talia's Tutoring, and now offers tutoring services to students in fifth to eighth grade level math. She's even continued this service during the pandemic by offering some virtual sessions.
Even though she has a lot on her plate between the podcast, tutoring, and schoolwork, Levy stays well-organized. Being very intentional with her work and utilizing all hours of the day, she creates lists and schedules to keep track of everything.
While her organizational skills help, it's her passion and purpose behind her work that truly drives her success. That leads to her biggest piece of advice to other teenagers who may be considering starting a business of their own.
"One of the first things you need to do is figure out if you're solving some problem or adding value to someone's life. Put purpose behind your work," shared Levy. "Then, get started by just putting your idea out there and see who's interested."