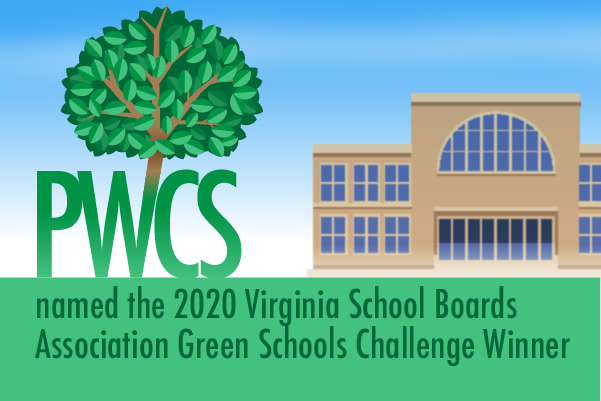 Prince William County Public Schools (PWCS) is the 2020 Virginia School Boards Association (VSBA) Green Schools Challenge Winner in the student population 10,001 and up category. PWCS previously won the top award in 2015 and since then, has earned a platinum certification as a VSBA Certified Green School Division annually.
As per VSBA rules, a division cannot win top honors more than once unless they implement significant new actions and/or adopt new policies that would in turn earn "green points." In June 2020, with the passing of the PWCS School Board's Resolution: Sustainability Initiative, and ongoing conservation policy and regulations, PWCS met the criteria to win the top award for the second time.
The Green School Challenge award recognizes school divisions that implement specific environmental policies and practical actions that reduce the carbon emissions generated by both the local school division and the broader community. School divisions earn "green points" by documenting 30 different actions in 11 categories including policies, energy efficiency, green buildings, waste management, vehicles, indoor environmental quality, employee incentives, education/community participation, schools, student involvement, cooperation between school division and local government, and innovation. The maximum points that a school division can earn is 200 and PWCS has earned a minimum of 175 points since 2015.
"PWCS students, staff, and community have a strong commitment to actions that help maintain Prince William County as a clean, sound, and healthy environment. Every year I feel privileged to share school-based activities that accomplish the division's goals of environmental stewardship, energy efficiency, and sustainability. This year PWCS took a giant step toward identifying measurable standards for environmental literacy, decreasing our carbon footprint, and creating resiliency in our facilities. I am excited to witness and chronicle the actions our students and staff will take with this new initiative," shared Jeanne Jabara, energy education coordinator, in the PWCS Energy Management Office.
This award not only showcases the commitment PWCS has to the environment and sustainability, but also shows the depth of commitment with actions supported across division departments including leadership, construction, student activities, student learning, food and nutrition services, and human resources.
The Energy Management and Sustainability Program encourages schools and the community to get involved in being "Green." To find out more, visit the 
PWCS Energy Management
 website.