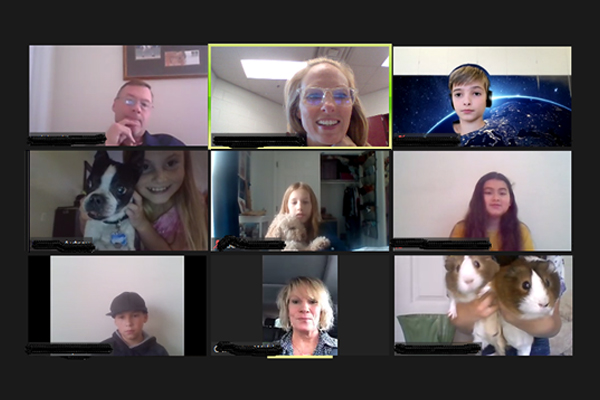 When Signal Hill Elementary School fifth-grade teacher, Michael Parker, sought feedback from parents about how virtual instruction was going, he discovered a common theme in the responses he received. Students were enjoying the academic portion of online learning, but the social connection, so important for social-emotional well-being, was limited.
"I realized that a significant part of the educational experience was missing," said Parker. "In school, teachers spend a lot of time talking with their students and getting to know them. That builds trust and allows the students to be more willing to open up and take chances in instructional settings. So, it's important time that allows the students to connect with each other and the teacher to connect and build relationships with the students."
Hence the institution of "Mr. Parker's social hours," a weekly optional student-led Zoom session held one afternoon each week where everyone gets to know each other better. Participation commonly ranges from seven to 13 students and discussion topics may include video gaming, all-terrain vehicles (ATVs), favorite football teams, and what your pet is up to that day. Shown from every angle of cage, perch, or cushion, cameo appearances from the pets themselves are also very common.
In addition to general chatting, an added benefit to the meetings is that it has provided an opportunity for a couple of Parker's students who are new to Signal Hill Elementary this year to meet classmates and build friendships, minimizing loneliness and the anxiety of attending a new school.
"Anyone can choose to attend; they can pop in and out if they want," shared Parker. "It's their time to do what they want (with some reasonable limitations), and I moderate and use the time to learn more about my students, build relationships, and connect with them on a more personal level. Plus, when else do you get to see a close up of the bottom of a guinea pig's feet?"
These social times have become so successful that other teachers on Parker's team are incorporating them into their weekly schedules.