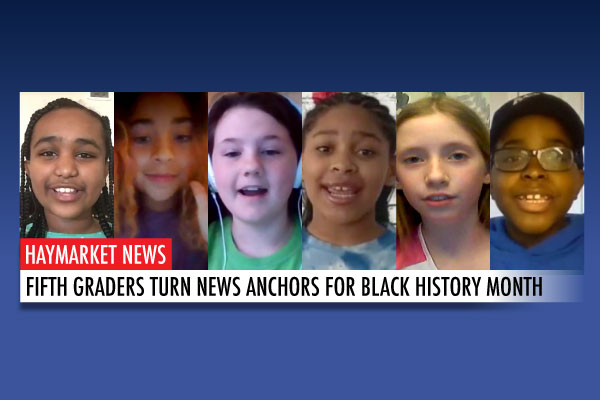 The Student Council Association (SCA) at Haymarket Elementary School took on the responsibility of spearheading the school's observance of Black History Month. This team of school leaders brainstormed ideas and came up with a detailed plan to schedule a month's worth of informative and educational news shows to highlight the notable contributions of accomplished Black Americans from across all walks of life.

Fifth graders Mya, (SCA president of public relations), Maya, (SCA variety: facts and funnies), and SCA ambassadors: Ethan, Soliyana, Charlotte, and Avery, designed an impressive project that provided a variety of inspirational role models to introduce to their classmates.

Each one-to-three-minute segment, researched and written by its presenter, shared details about an influential person, from well-known figures such as Martin Luther King Jr. and Rosa Parks, to authors and poets, the inventors of peanut butter and potato chips, and medical scientists known for synthesizing a treatment for glaucoma and creating a device to correct cataracts. The results were shared on the school's morning announcements throughout February.