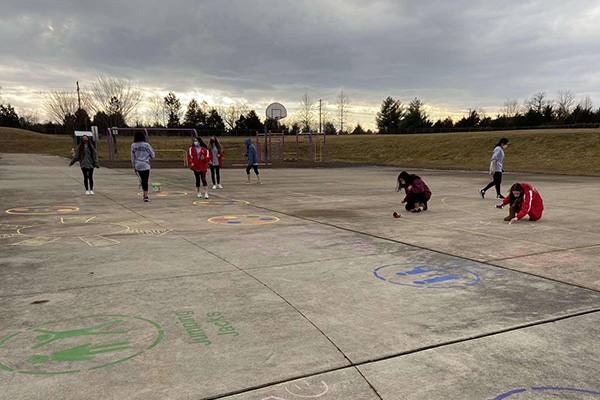 Activities to celebrate Random Acts of Kindness Week at Patriot High School were fully underway, with different student groups branching out to execute several activities each day of the week. To begin the week, students at Patriot High were encouraged to set a reminder in their calendar to "Thank a Teacher" and send a positive note or email to a current or former teacher to start the week on a positive note.
For Tuesday's "Chalk Up the Day," several student groups and sports teams, including the Patriot High gymnastics team, went to local schools to write positive messages in chalk the night before so that when students and staff arrived at school the next day they would be greeted by positive messages on the sidewalk.
Victoria VanDyke, a junior at Patriot who helped create the beautiful chalk art at one of the schools, shared, "I felt it was very important to chalk positive words and drawings at Cedar Point Elementary School. I went to Cedar Point Elementary and created so many amazing memories with my friends. With the pandemic affecting how kids get to interact with one another, I felt chalking positive messages was important to make a positive impact on these kids during this tough time. Students can now read our words of positivity while they are going into school or playing on the playground. Hopefully, we can put a smile on their face and make their day a positive one!"
On Wednesday, Patriot's Culinary 2 students baked and decorated cookies with a smile to help spread "Smiles for Miles." The cookies were distributed to teachers at Patriot's feeder schools - Bristow Run, Cedar Point, Glenkirk, Piney Branch, T. Clay Wood, and Victory Elementary Schools, and Gainesville and Marsteller Middle Schools. They also delivered special packaged cookies to the School Board members at the School Board meeting on Wednesday evening to honor School Board Appreciation Month as well as their "Smiles for Miles" activity for Kindness Week.
Senior Zachary Salter, chief information officer for Patriot's culinary program, shared, "The "Smiles for Miles" activity made me feel happy and good. I was glad to be able to help to give back to the community and give back to the teachers who have worked hard during this difficult time. I think it was very important to do this to show that good things are still happening even during a hard time with negativity and hardships."
The theme for Thursday was "Thursday Rocks!" Students at all schools were encouraged to paint a rock with a positive message or drawing and leave their rocks throughout the community and take a picture and post to social media using the hashtag #PATRIOTRAK.
Due to inclement weather, "Donation Day" originally scheduled for Friday was moved to Tuesday, February 23. Students and their families have the opportunity to drop off items in front of the school for the Haymarket Regional Food Pantry, Prince William County Animal Shelter, or Wolf Trap Animal Rescue. According to Sharon Shipman, social studies teacher at Patriot, over 800 items have been collected thus far.