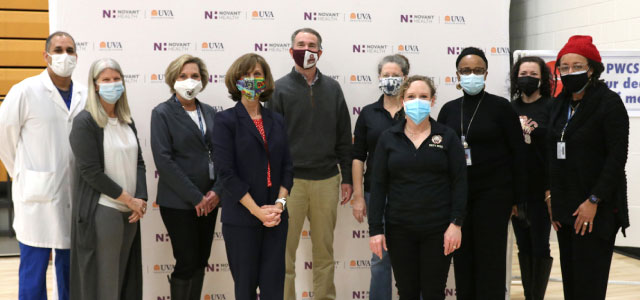 Thanks to a partnership with Novant Health UVA Health System and the Prince William Health District, 2,400 vaccinations were administered to PWCS employees on January 30 and 31, at Unity Reed High School. Governor Ralph Northam, First Lady Pamela Northam, and Secretary of Education Atif Qarni made a visit to the school clinic site as well.
School Board Chairman At-Large Dr. Babur Lateef and our PWCS teams, including the Office of Communications Services, Information Technology Services and pandemic team, and with the support of our school nurses, worked with Novant to offer 875 vaccinations to employees on February 5 and another 1,800 on February 6. Additional vaccinations will be offered to staff next weekend, with 1,700 being offered both on February 13 and February 14. Vaccines will be administered at Unity Reed High.
PWCS anticipates that by the end of the second week in February, over 10,000 employees will have received their first dose of the vaccine.

While PWCS has no control over the number of vaccinations available, they will work to provide vaccines until all staff members' needs are met. As information becomes available regarding vaccines, PWCS will share it with employees via email and text messages.
Find updated information on the Employee Vaccine Distribution Info and FAQ page.