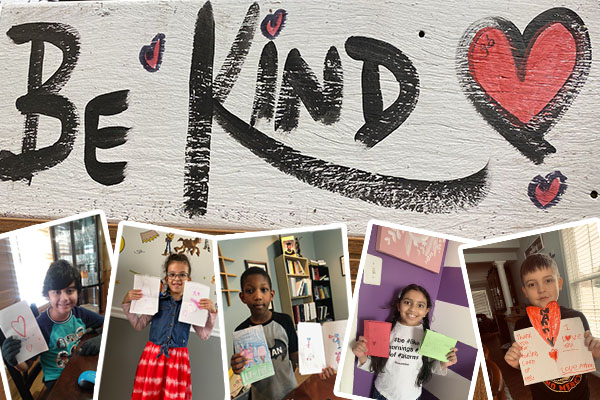 At Rosa Parks Elementary School, kindness is a core value. The staff members are advocates for spreading kindness in school and around the world. Their school theme is "Changing the World with Kindness, One Heart at a Time."
Rosa Parks Elementary Principal Sue Danielson said, "No matter how busy we are or how stressed we are, there's always time to treat those around us with both courtesy and respect. Always."
One way Rosa Parks spreads kindness is by sending out "Be Kind" signs. Danielson started by giving these signs to all staff members at the school. She then started sending the signs to school leaders across America.
Danielson, who was named the 2020 Virginia National Distinguished Principal (NDP), decided to send the "Be Kind'' signs to every 2020 NDP. Many of the principals have shared with her that they proudly display the signs at their schools. Danielson also sent signs to a school she helped build in the Dominican Republic. A former PWCS principal who lives in Japan displays one of the signs in her school there. Danielson has also given signs to other colleagues as they travel the world.
Students also model kindness at Rosa Parks. In elementary school, Valentine's Day is usually a day of receiving cards and candy from family and friends. This year, Anna Hughes' second grade class at Rosa Parks demonstrated their kindness by thinking of others first.
Hughes said, "Instead of figuring out what to do for "each other" we decided to share with the community around us."
To show their appreciation for others, her students created valentines and kindness cards for their family, neighbors, and members of the community. Hughes mailed the cards that students created to Hilda Barg Homeless Shelter in Woodbridge, spreading their kindness to the community.
The staff and students try to live by the quote of their namesake, Rosa Parks, who said, "Live your life as a model for others... with dignity, strength, courage, and pride." She would be proud of how a school named after her, is doing just that.