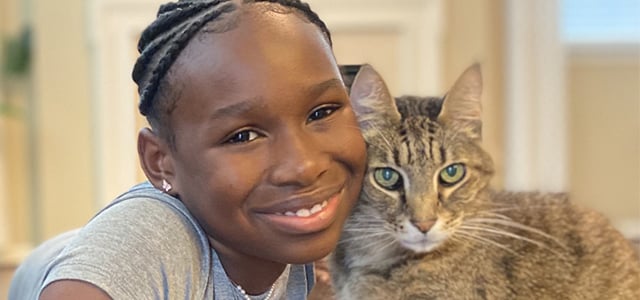 Tiana Price, a sixth-grade student at Woodbridge Middle School, was recently featured on the cover of "Kind News Magazine." The magazine helps students connect with animals and build empathetic relationships with them.

Tiana was honored to be featured in a magazine that she has enjoyed reading since she was in kindergarten. In the issue, Tiana wrote about her experience with her cat during quarantine.
As a member of the Junior Advisory Board of "Kind News Magazine," Tiana helps create content for the magazine and their YouTube channel. She also works with her Girl Scout troop on service projects that benefit the Prince William County Animal Shelter.

Tiana combines her passion for helping animals with her love of sewing and crafting to help animals in need. On her website, poshpetsworld.com, she features hand-made pet items that she donates to animal shelters.

"I love animals and I want to help rescuers, fosters and animal shelters as much as I can. The work that they do, and their animals mean a lot to me," shared Tiana. "One of my goals is to own businesses that cater to animals and animal lovers," she added.

Not only does Tiana have a passion for helping animals, but she encourages others to help animals as well. She has given a presentation on animal care to her Girl Scout troop and she provides instruction on her website on how to create animal supplies by upcycling.