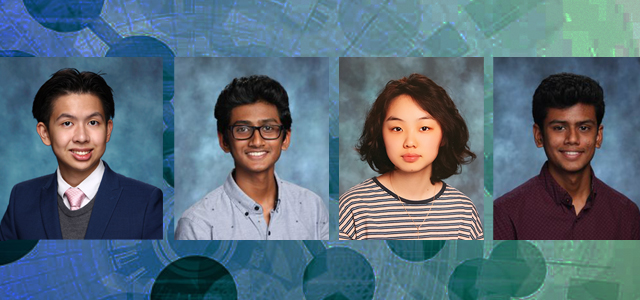 Congratulations to the 42 middle and 45 high school students whose projects were selected to compete at the 2021 Prince William-Manassas Regional Science and Engineering Fair. Their presentations were evaluated by over 100 category judges and 29 organizations in a virtual forum on March 13-20.
All students will receive a certificate of participation and winners will be presented with a monetary award and a trophy. The division will also sponsor first and second place finalists from the senior division to compete in the Virginia State Science and Engineering Fair in April.
Two projects in the senior division were awarded a grand prize:
"Exploring Novel Pre-Processing Techniques on Neuroimaging Data and its Impacts on Performance of Multi-Dimensional Convolutional Neural Networks in Alzheimer's Disease Diagnosis" by Khoi Nguyen, Anish Pothireddy, and Ashish Pothireddy, who are seniors at Osbourn Park High School and also attend the Governor's School @ Innovation Park, and
"Evaluating the Benefits of Selected Medicinal Herbs on the Regeneration Rate of D. dorotocephala" by Agnes Cho, from the Pre-Governor's School at Osbourn Park High School.
"This project greatly advanced our understanding in computer vision and machine learning as we transition into college, but we hope to have provided an alternative insight to improving Alzheimer's Disease diagnosis through computer vision," said Nguyen. "Although COVID prevented a typical operation of the science fair, where we get to present face-to-face with judges and interact with like-minded peers and their research, the fair officials did a great job overcoming the challenges associated with making such a complex event purely virtual."
Both projects will participate in the International Science and Engineering Fair in May. A full list of winners and the event programs are posted on the Prince William-Manassas Regional Science and Engineering Fair webpage.
"Foremost, I would like to express my deepest appreciation to everyone who supported our students and their research during this challenging year," said Julia Renberg, supervisor of the PWCS Science and Family Life Education Program and director of the Prince William-Manassas Regional Science and Engineering Fair. "Even as a virtual event, the regional science and engineering fair remained a quality experience and an invaluable opportunity for our students. Many thanks to the Society Science and the Public for awarding us the Emergency COVID-19 Grant and to the Armed Forces Communications and Electronics Association for their generous donation. And, of course, congratulations to all regional fair participants and best wishes to those who will be presenting our division at the state and the international events!"