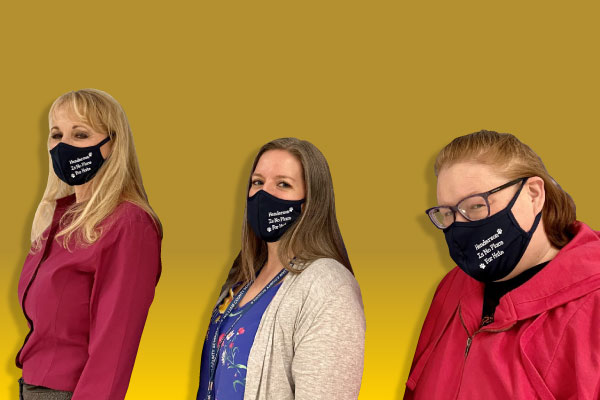 At Henderson Elementary School, Principal Susan Bevans is determined to hold her school accountable for kindness. That's why she is pursuing the Anti-Defamation League's (ADL) No Place for Hate® (NPFH) initiative, a movement that, according to the ADL website, helps schools "create a more equitable and inclusive climate." Her school joins 31 other PWCS schools that are actively pursuing NPFH status this year.
Bevans, with support from students, staff, and parents, pursued the NPFH initiative after student data at Henderson Elementary reflected lower numbers in the categories of safe, healthy, and caring environment.
"Our goal is for all Huskies to know all are welcome at Henderson in any learning environment," Bevans said. "Showing respect, kindness and caring for each other will make our relationships stronger and more meaningful in the Husky House."
NPFH uses guides and curriculum customized to student interests and needs. It offers support for teachers in addressing challenging topics through lesson plans, discussion guides, and professional development.
Students lead the program and are a critical component in transforming the school culture, according to school counselor, Suzanna Erlichman.
"(NPFH) empowers the students to make a difference and be involved in something together," she said. "Students are on board with standing up to bullies and working to eliminate hate and bias in the building," she continued, adding, "They now know that it's not only the adults who can help them when they need it, but also the other students."
Whisper, a student at Henderson, loved the idea of NPFH so much that she self-advocated to be a part of the NPFH committee at the school. "I joined because I like what the program is about, and I like how it is setup," she said, emphasizing, "I like the message and goal most of all."
Julian, another student at Henderson, offered some perspective on the motivation behind his involvement. "Other people's feelings matter," he shared. "Kindness is like a pebble being dropped in water and the ripples will spread throughout the world," he said.
Henderson is still pursuing its No Place for Hate® school status and has already completed many of the required steps. These steps include registering the school with the ADL, creating an NPFH committee consisting of students, parents, teachers, and administrators to oversee goals and identify challenges at the school, signing the No Place for Hate® Pledge, and providing each student with an opportunity to participate in three ADL-approved activities that address bias and bullying through discussion, active learning, and a follow-up action plan.
The school must complete these steps each year to retain their No Place for Hate® status, a recognition that has deeper significance than the label it provides, according to Erlichman.
"On the surface, we will receive a customized banner that we will hang in our school, but on a deeper level, our students will be provided with education and hands-on experience on how to be change makers and to help their peers feel safe, accepted, and welcome throughout their lives," she said.
Bevans added, "They will move forward in life knowing that respecting and accepting our differences gives our students the power to make our world a more peaceful place to live."