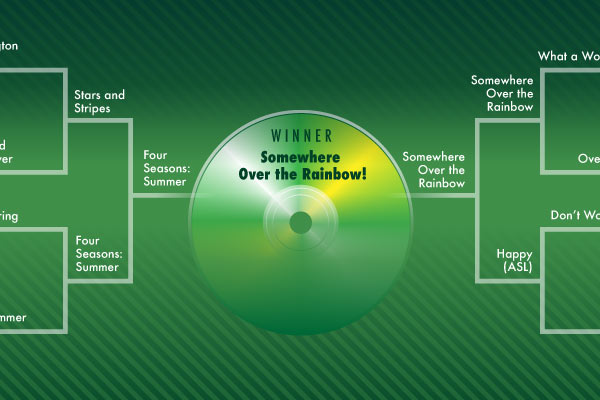 Coles Elementary School celebrated Music in Our Schools Month with a fun activity that encouraged them to listen and reflect on eight pieces of music. After analyzing the music, students picked which piece they liked best.
The songs were divided into a tournament-style bracket. Students were given a few days to listen to the music and submit their votes. While listening, students were asked to be analytical as they formed their musical opinion and reflect by answering questions like "Why do people compose and perform music?" and "Why is it important to listen to different types of music?"
Music teacher, Jon Wilson explained, "I chose a variety of musical styles and settings to broaden their listening experience. On the other hand, I chose familiar pieces and songs so that the activity would be more approachable."
In the first round, students were asked to compare composer John Sousa's "The Washington Post March," performed by the United States Army Field Band to another Sousa piece, "The Stars and Stripes Forever" performed by "The President's Own" United States Marine Band.
For the second-round, students listened to "The Four Seasons: Spring" and "The Four Seasons: Summer." Both pieces were written by composer Antonio Vivaldi and performed by violinist Joshua Bell and the Academy of St. Martin in the Fields.
The third round had popular favorites, "What a Wonderful World," written and performed by Louis Armstrong, and "Somewhere Over the Rainbow" written by Harold Arlen and Yip Harburg but performed by Israel "IZ" Kamakawiwo'ole.
The final round included writer Bobby McFerrin's "Don't Worry Be Happy" performed by Playing for Change and Pharrell Williams' "Happy" performed by Deaf Film Camp at CM7, a group that uses American Sign Language (ASL) in their video.
Wilson shared, "I want to reinforce that music is about communication and expression, which can take many forms, which is why I intentionally chose a song with ASL."
The championship round had Vivaldi's "The Four Seasons: Summer" versus Kamakawiwo'ole's rendition of "Somewhere Over the Rainbow." The students chose "Somewhere Over the Rainbow" as their favorite piece of music from the competition.
The students enjoyed the activity. A fourth-grade student shared, "I've learned that you can always listen to different types of music, because you might say, "I really like that" or "I like that one" and your love for music can always grow."
Wilson appreciates the chance to celebrate Music in Our Schools Month with his students. "It reminds people of the importance of music in a child's education for social, emotional, and intellectual development. Music is inseparable from culture. It ties us to history and traditions and is one of the ways in which we connect with others," he said.