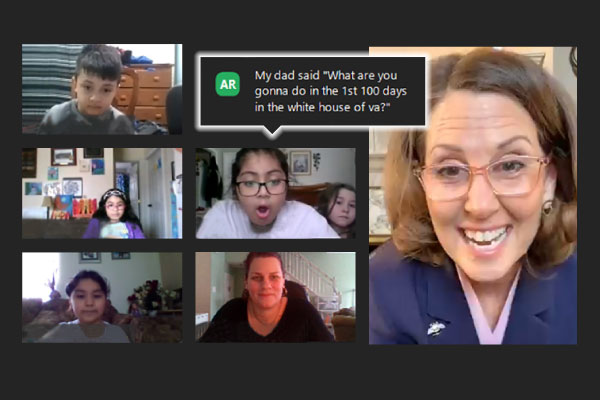 Students in Amanda Proch's gifted education class at Kilby Elementary School had a special opportunity to talk with Pamela Northam, the First Lady of Virginia, during a virtual classroom meeting recently. It was an enriching experience for them to practice critical thinking, researching, and creative reasoning.
To celebrate their success and dedication to learning virtually, the students asked Proch if they could "meet someone famous, like Joe Biden?" Proch found a way to embed this into their unit on critical thinking. The students spent five weeks studying critical-thinking skills, such as how to evaluate information, look for evidence to support thinking, and draw accurate conclusions. They learned how to ask good questions to support these thinking skills.
In class, they read and completed research about Northam, to prepare a list of clear, accurate, relevant, logical, and fair questions to ask her. The following week, Northam met with the class, answered their questions, read the students a book, and gave them a virtual tour of her current home, the Governor's mansion. They even met Pearl, the family dog.
During their interview, students asked thoughtful questions, such as, "How did your life change when you became first lady?" and "How does the president interact with the governor?" Students were highly engaged in the class and some left inspired for a profession in government. Many students' families also got involved, sitting in front of the camera with their child and asking advanced-level questions, which enriched the experience for everyone.
After class, Proch gave the students assignments to choose from, including to create an acrostic poem, a timeline, an ABC book of ideas learned from the experience, or to research one of the websites Northam had recommended. Students shared their work in class the next week and Proch sent some examples to Northam.
"Such thoughtful questions asked. Our future is bright with these critical thinkers!" said Brenda Bailey, supervisor of gifted education in the Office of Student Learning. "What an amazing experience coordinated by Ms. Proch!"