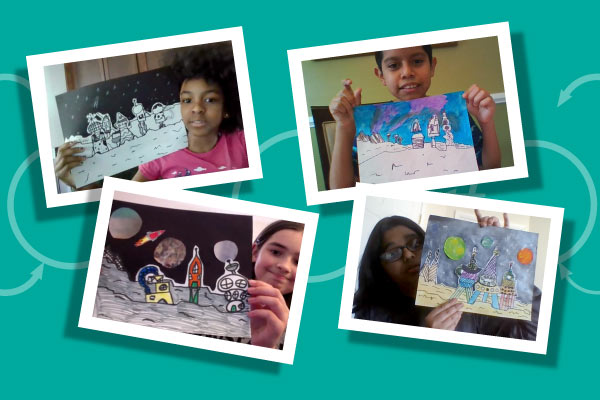 Alyssa Tice, Kyle Wilson Elementary art teacher, shared Pam Peacock's artwork with her students, then invited them to submit video questions using Flipgrid. Peacock is a senior graphic designer at iHeart Podcast Network in Atlanta, Georgia, but in her free time, she enjoys drawing and painting. She responded to the student questions, many of which were about outer space being the dominant subject in her artwork. While watching the group interview, students worked on an art project inspired by her artwork.
"They created futuristic landscapes that show foreground, middle ground and background, and show size relationships relative to their placement within the picture plane," Tice explained.

In one of her responses, Peacock shared what she likes about using color in art. "Adding color just brings it to that next level versus just showing someone a drawing of something. I also enjoy the physical process of painting. I like playing with the paint and mixing colors and using brushes. All of those things are really fun to me."

Kyle Wilson student Kasey Etzweiler said, "It is important to talk and learn from other artists because they can inspire you to work hard on your art and to make the art something that you love and enjoy."

Peacock encouraged students to use Google and YouTube as a tool to see other artists working and learn from these artists.

The "March Madness" art activity introduced students to a variety of artists from various time periods and ethnic backgrounds. Tice challenged students to examine the art, then vote for their favorite.

Leonardo DaVinci's "Mona Lisa" was compared to a realistic portrait by Kehinde Wiley, a painter who lives in New York City, and Vincent Van Gogh's "Starry Night" was judged against a piece by American fiber artist Bisa Butler, who sews quilts that are inspired by old black and white photos from African American History.

Japanese installation artist Yayoi Kusama, who creates infinity rooms with objects and mirrors, competed against American glass sculptor Dale Chihuly, while work by muralist Jen Stark, also an American, was compared to JR, a French photographer.

"It's important for students to have their own opinions and be able to express them. I also hope that they will see that there are so many types of art and artists. And that anything can be art, and anyone can be an artist," Tice shared.

The championship round featured Wiley, the realistic portrait artist, and Stark, the muralist. Third-grader Gavin Weatherly said, "It was cool to see a lot of artists that I didn't even know existed." Classmate Anysia Reeves shared, "I liked how there were different kinds of art, not just drawings."