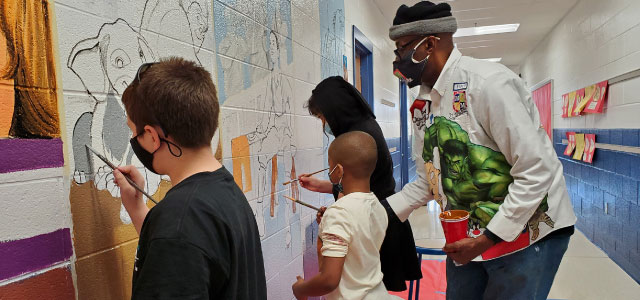 Renovations to the 25-year-old Mountain View Elementary School were recently completed, and principal Adriane Harrison knew just who to contact to give the freshly painted walls some pizazz and help create an atmosphere that inspires creativity and learning. Stacy Ridgeway and his son Stace Ridgeway, the team of artists behind many murals across PWCS, arrived on the scene at Mountain View Elementary just in time for Youth Art Month.
The library media center and surrounding walls were the main canvas for Ridgeway and his team. Librarian, Karen Scott worked with Stacy to select the characters from different genres of books that would be incorporated into the murals. Harrison and Scott wanted there to be a good mix of fictional characters and real-life historical figures, and most importantly that the diversity of the student body at Mountain View was represented.
"Our students are from many different cultures and backgrounds," explained Harrison. "We want to make sure they are seeing people who look like them on the walls of our library."
From popular fictional characters like Harry Potter to biographical figures like Malala Yousafzai and Sonia Sotomayor, the murals are designed to get students interested in reading.
"What Stacy made happen, I'm absolutely thrilled with," shared Scott. "The biography section especially, it's wonderful to be able to talk with the students about these people and encourage them to read about them."
A key component of Ridgeway's art projects is audience involvement. This project was a timely one at Mountain View, coinciding with Youth Art Month. Students at all grade levels had the opportunity to watch, learn, and even participate by painting in some of the areas Stacy and his team had outlined.
Ridgeway shared age-appropriate technique with students from proper holding of a paintbrush to color and shading.
"The murals all link together to tell a story," shared artist Stacy Ridgeway. "The outlines are systematically filled in with students helping who can say they had a part in something this big. Maybe they painted in a shoe or a table leg. They were a part of it."
"Magical", "colorful", and "fun" are just a few of the descriptive words used to describe the results of the mural project at Mountain View.
"We love what Stacy and his team have created and that our students got to be a part of it," exclaimed Harrison.