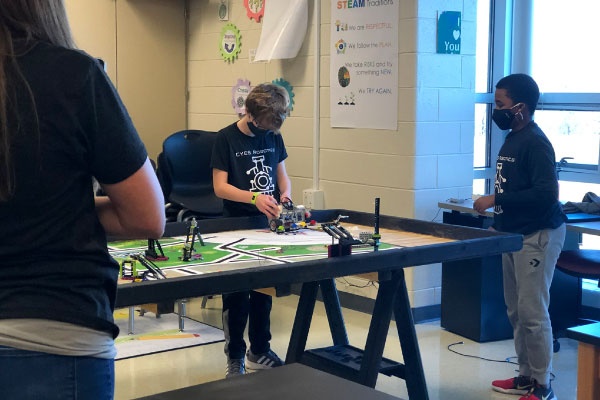 Prince William County Public Schools (PWCS) robotics coaches were determined to offer a robotics season for students. Creative scheduling and coordinating allowed teams to start meeting virtually to build their robots.
Last spring, coaches started making plans to host a robotics season for the 2020-21 school year. They started meeting virtually and building an online library of resources. VEX robotics and FIRST robotics representatives took an active interest in the School Division's plans because PWCS is one of the only school divisions still hosting robotics.
In the fall, teams started designing their robots during Zoom meetings. After creating a set of blueprints, students gave a list of parts to their coaches, who then gathered the parts and put them in a bag for students to pick up from the school. During the building phase, students again met on Zoom, but split into groups.
Denyse Carroll, PWCS science, technology, engineering, and math (STEM) and robotics initiatives specialist, explained, "The design has already been approved by the team, so one student has the parts to build the chassis and over Zoom his or her teammates are helping with the build by sharing their ideas. Other groups are working on the other parts of the robot in the same way. Students can also drop off completed pieces to each other's homes, but before doing this, they've been taught how to disinfect the robot pieces, so we can keep the students safe."
There have been several advantages to teams meeting virtually. For example, meeting virtually means there's no need for transportation to attend a meeting. High school and middle school robotics students have been volunteering to assist elementary school teams. Also, teams at schools in different parts of the county have started working collaboratively. At the middle school level, the teams from Fred M. Lynn Middle School and Unity Braxton Middle School meet together.
In December, the Virginia High School League (VHSL) granted permission for sports teams to begin meeting in-person. Because robotics is considered a sport, some robotics teams are now meeting in-person and virtually.
The School Division already has a few wins this season. VEX Team 20164T, also known as the Tiger Sharks, from Charles J. Colgan Sr. High School, took first place at the VEX Robotics Seton Christmas tournament and Team Spunkies at Chris Yung Elementary School took first place at the Virginia + DC FIRST LEGO League (FLL) tournament.
In early March at Bull Run Middle School, the School Division hosted a skills tournament for middle and high school VEX robotics teams; PWCS' first in-person competition in over a year. Physical distancing guidelines proved to be an advantage. Teams were scheduled to take to the playing field in time slots which also gave them 30 minutes of one-on-one time with the volunteer judges. Student teams received suggestions on tweaks to make to their robots and game strategy for future competitions. Buckerewz and Cosmos, teams from Forest Park High School, had the top two best runs, respectively. Gar-Field High School's TBD 2 placed third. At the middle school level, Parkside Middle School's DaVinci's Visionaries was the first-place team. Breakfast Time from Lake Ridge Middle School came in second place and Edison's Engineers, also from Parkside Middle, placed third.
Ben Mitchell, a regional manager for the Robotics Education & Competition Foundation, said, "What Denyse and the educators and staff at Prince William County Public Schools have done during this pandemic to support STEM education is nothing short of inspiring. The easy thing to have done would have been to give up and write the year off. Instead, every week, PWCS is working to keep students engaged, to make the most of the resources they have, and to come out of this stronger than they were before."