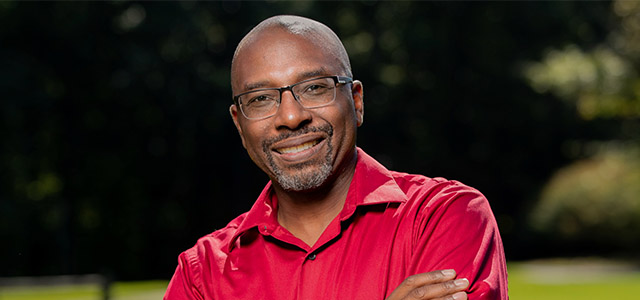 Dr. Patrick Ware, music teacher at Fitzgerald Elementary School, has been named vice president of diversity, equity, and inclusion for the American Orff-Schulwerk Association (AOSA). AOSA is a professional organization of music educators dedicated to the learning process developed by Carl Orff and Gunild Keetman of building musicianship in every learner through the integration of music, movement, speech, and drama.
Ware's recently created AOSA position was established to elevate the importance of identifying and supporting diversity, equity, and inclusion throughout all aspects of AOSA's programs. In his new role, Ware will oversee the work of AOSA, serving as an executive committee member and chair of the member relations committee. This position is one component of AOSA's commitment to assembling a leadership that is representative of its members and to forming a culture of belonging for all of its members.
"This position is new for the organization," said Ware. "I am thankful that the leadership took a look at itself and its practices and acknowledged that we could do better. We can do better in the selection of music and dance presented to our students. We can do better in the training of our teachers and the modeling of student interactions. We can do better in our cultivation of future leaders. In short, when you know better, you have to do better."
Ware is an internationally known Orff - Schulwerk clinician and choral conductor. He holds a bachelor's degree in music from Westfield State University, a master's degree in education from Radford University, and a doctorate in musical arts from the Shenandoah Conservatory of Shenandoah University. Ware is a National Board Certified Teacher in music/elementary and middle childhood. In addition to teaching music and chorus at Fitzgerald Elementary, Ware teaches movement for the Hofstra Orff Certification Program and level II basic pedagogy for the Los Angeles County Orff Program. He is a former president of the Virginia Elementary Music Educators Association. Ware has several compositions in print through Beatin' Path Publications, including works for treble choir with Orff Ensemble.
Ware said he provides his students with a setting that nurtures creativity and inquisitiveness. Special focuses in his classroom and courses include jazz in the elementary setting and the use of children's literature.
"The Orff approach is child-centered. Students learn through exploration, imitation, and improvisation," said Ware. "My approach to teaching and learning is to cultivate in students the ability to think. Our time together is not so much about what you think, as it is about how you think. Yes, to some degree there are right and wrong answers in music. But the joy of the process is that there are so many right answers."