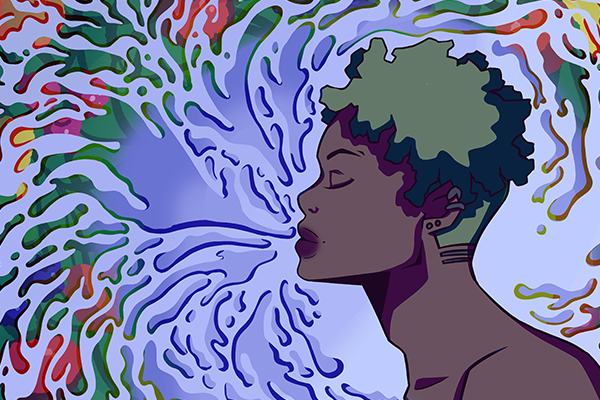 PWCS student artists received top honors at this year's Prince William County Service Authority's (PWCSA) Virtual Water Art Invitational. The Service Authority designed this competition to raise awareness about the value of clean water and to engage students in environmental stewardship through artistic expression. This year's event took place virtually with 106 entries in four categories: Painting and Drawing, Mixed Media, Computer Graphics, and Photography. The theme for 2021 was "The Power of Water."
View the artwork of our talented student artists in the online galleries below.
•
Painting and Drawing Gallery
•
Computer Graphics Gallery
•
Photography Gallery
•
Mixed Media Gallery
High school students enrolled in public, private, and home schools in Prince William County, Manassas, and Manassas Park were eligible to participate.
Congratulations to all of our winners.
Computer Graphics:
First place: Amarah Perkins, Charles J. Colgan Sr. High School
Second place: Chelsea Hodum, Battlefield High School
Third place: Ellie Rushing, Charles J. Colgan Sr. High School
Mixed Media:
First place: Isabel Walther, Charles J. Colgan Sr. High School
Second place: Abbie Dixon, Charles J. Colgan Sr. High School
Painting and Drawing:
First place: Thia Lam, C.D. Hylton High School
Second place: Denise Kamgaing, Charles J. Colgan Sr. High School
Third place: Peyton Davitch, Charles J. Colgan Sr. High School
Photography:
First place: Yamilet Ventura, Forest Park High School
Second place: Maia Demartin, Charles J. Colgan Sr. High School
Third place: Nicole Nguyen, Osbourn Park High School
General Manager's Awards:
Alena Norman, Charles J. Colgan Sr. High School
Erin Bayless, Forest Park High School
Kailee Reis, Charles J. Colgan Sr. High School
Olivia White Eagle-Dodson, C.D. Hylton High School
Sienna Lambert, Charles J. Colgan Sr. High School
Tiffany Stutsman, C.D. Hylton High School
Claire Limjoco, Charles J. Colgan Sr. High School
Kathryn McDermott, Battlefield High School
Denis Larin Velasquez, Osbourn Park High School
Giuliani Gaitan, C.D. Hylton High School