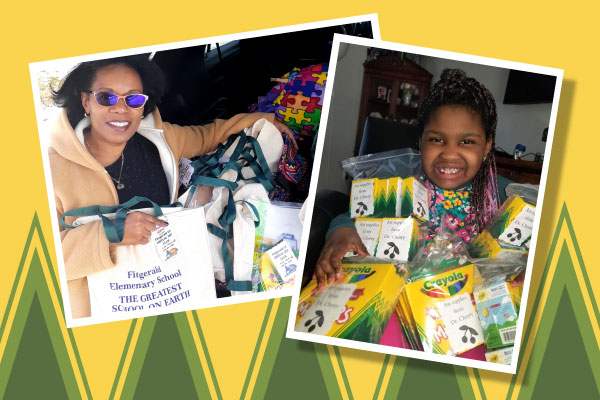 It all started one night when Delaney heard her mom and dad talking over dinner about some students who did not have the supplies needed for basic art lessons. Delaney, a second grader at Leesylvania Elementary School, offered to share her own supplies. Delaney began using her own savings, with contributions from mom and dad, to purchase art supplies and create art kits for students learning at home who could not afford them. Delaney, who her mom says often displays thoughtfulness and generosity, voluntarily supports the family's charity work and thinks of others. That thoughtfulness was the seed for a project that has blossomed into an ongoing effort beyond what Delaney and her family could have imagined.
"It is a family effort," said Dr. Laura Cherry, art teacher at Fitzgerald Elementary School and mom to Delaney and her older brother, Jackson, an 11th grader at Hylton High School. "Our children have willingly given up pizza nights, movie nights, extra clothes and shoes, and special treats so that we can save money for art kits. Our entire family has agreed to make sacrifices so that students can have the art supplies they need."
To date, they have donated well over 300 boxes of crayons, packs of markers, art journals, and hundreds of pencils, erasers, glue sticks, and rulers, and counting. Family and friends and some strangers from around the world (as far away as Italy) have also donated supplies and funds to help. Recently, Delaney and her mom put together art kits that included watercolor paint, watercolor paper, chalk pastels, and black paper, and Delaney included a personal handwritten note. Her Girl Scout troop has also offered to help create art kits. 
"Due to the pandemic, we are finding other ways to give back locally," said Dr. Cherry. "Creating art kits allows us to help our local community in a way that is meaningful to us. As an artist, art educator, and an art therapist, I understand the importance of art in the lives of children and the need for kids to be able to express themselves creatively during a time in which they may not have words to express how they feel. I believe that Delaney has intuitively picked up on the importance of art and the importance of giving back as well."