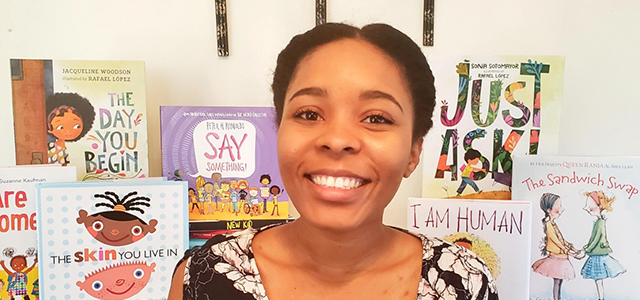 When Faith Thompson, first grade teacher at Yorkshire Elementary School, reflects on her days as a student, she can't recall her teachers reading books that had characters who looked like her. Now as a teacher, she is determined to share books that include diverse characters.

In the summer of 2020, she presented a vision for a program that teaches diversity and inclusion using stories. Thompson's original idea was to have people donate books to her and her fellow teachers at Yorkshire Elementary.

NBC Washington and "CBS This Morning" shared her idea, but when SPARK, the education foundation for PWCS, heard about Thompson's quest for book donations, they introduced her to Radhika Bajaj, the founder and Chief Executive Officer (CEO) of Bookworm Central.

Bajaj explained that Bookworm Central's "Book Connect: Building Community One Book at a Time," is similar to Thompson's vision, but with a few customizations the "Book Connect: Celebrating Diversity and Inclusion" program was created.

The structured program is built around 10 books. Thompson selected books that she enjoys sharing in her classroom, but she conducted some additional research and reached out to the school librarian at Yorkshire Elementary for suggestions.

While reading a book, the teacher initiates student discussion by asking questions about key themes. After the reading, students participate in an activity that features key lessons from the book. However, the learning does not stop there. In future lessons, when teachable moments present themselves, teachers are encouraged to refer to the stories to reiterate connections to the books.

"It's more than about the books. It's about long-term intentional conversations that are going to build that foundation over time," Thompson explained.

Bajaj, who also serves on the board of directors for SPARK, shared, "Being involved with the School Division allows businesses to pay it forward and leave a legacy where you may not be presently benefitting from the work that you are doing, but you are contributing to the future because our human capital is our most important capital and it's in the schools. When businesses invest their time, resources and means to support schools, it's a win-win all the way around. Not just in the short term, but really for the long term."

The program is currently in 117 classrooms in seven schools in PWCS. Thompson plans to share the program not only across the state, but nationwide.

"I'm hoping that teachers who incorporate this program in their classrooms understand that this is a journey, a commitment, but if you do a little bit at a time and just build on it naturally, it's invaluable. It builds community, it builds relationships, it helps broaden their experiences and their understanding of other people. It gives the students a good foundation that they're going to need when they're dealing with situations throughout their lives," Thompson explained.

The program materials include a copy of all 10 books, student activity handbooks and a teacher's guide. Other program sponsors include Koons Auto Group, Lockheed Martin, Micron, Novant/UVA Health Systems, Sandy Spring Bank, Walmart, and Watermark Risk Management, LLC.
If you are interested in helping support this program or other similar programs at PWCS, please contact SPARK.