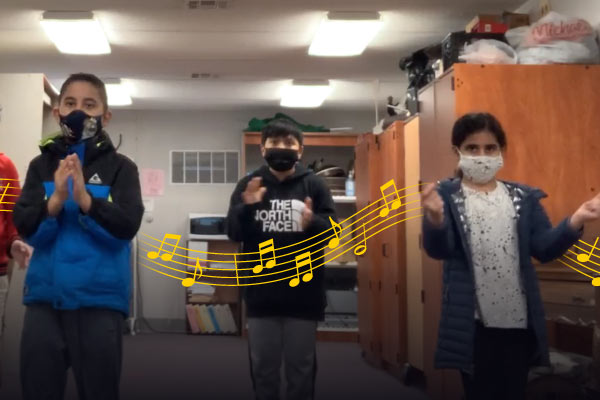 From Aretha Franklin to Selena to Lizzo, influential female musicians, composers, and conductors are at the center of music lessons throughout March at Occoquan Elementary School in celebration of Women's History Month. Whitney Burkholder, music teacher at Occoquan Elementary, created this month's lessons so that students can gain a greater awareness of the impact that women have on the music industry.
"Celebrating women in music gives such a unique opportunity to take a step back and think about why we do it," said Burkholder. "A lot of these musicians, as they were up and coming into fame, prove that it doesn't matter who you are or what you look like, what your skin color is or if you are a boy or a girl. They just go [make music] and are awesome at it."
Burkholder has taken her students on a musical journey through history, introducing them to a variety of old-school and new-school female artists. These include Whitney Houston, Mariah Carey, Esperanza Spalding, and Beyoncé. The lessons themselves vary in style. Often, Burkholder leads a brief discussion and then students learn more about individual songs. Her younger students, for example, participated in a scavenger hunt for items to use as drumsticks and then played along to Aretha Franklin's song "Respect."
"Being able to take older artists and tie it [into lessons with new-school artists] makes it more meaningful," said Burkholder. "They are able to get an appreciation for the [songs] they listen to now and figure out where they came from."
While Burkholder focuses on the traditional music industry, she also extends her lessons beyond that realm. This includes featuring females who do not professionally make music but have made it a part of their life, such as Ellen Ochoa, a female NASA astronaut who played a flute in outer space.
Similarly, Burkholder encourages students to reflect on inspirational women in their own lives.
"I also ask students to think about women who inspire them today. I ask questions like, who is your inspiration and why do they make you feel good?" said Burkholder "Then, I tell them to take that feeling and apply it to these women who have made music."
Altogether, Burkholder hopes that students can recognize the contributions of female artists and connect it to the evolution of the music industry and beyond.
"It's neat for [students] to understand where music is coming from," said Burkholder. "But in general, I want them to know that things change over time and women help that. Women's contributions are varied, but they are so important."