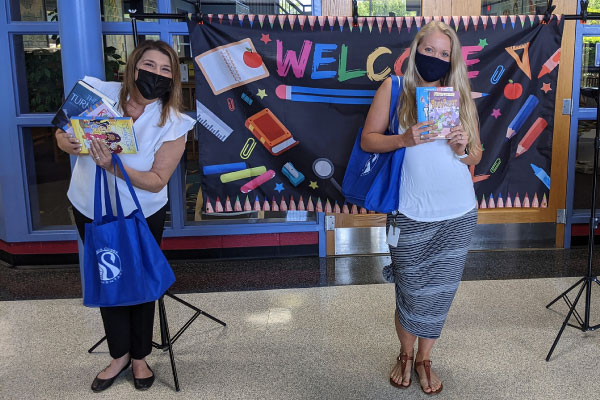 Swans Creek Elementary School students were truly excited to celebrate reading and books during their recent spring read aloud event, the "Swan-Tastic" book giveaway. The celebration included components that kept the fun and learning going well beyond that day, which included a book giveaway, "book talks," and teacher read-aloud sessions.
Rebecca Michalewicz, Title I reading teacher at Swans Creek Elementary, followed the day's events up with a virtual evening session for parents, to provide discussion ideas for reading at home, useful comprehension questions to accompany the teacher read-alouds, and assistance with using Flipgrid for those who needed it.
"Based on the success of our winter-themed read aloud event, I knew this would be another hit," said Michalewicz, who organized the event. "During our winter event, students continued to upload recordings months following the events; we had 2,167 views and 227.8 hours of engagement. Our students really enjoyed showing off their skills and I hope they continue to do so this spring."
A month's worth of planning included invitations and news updates to families, ordering books, organizing supplies by grade-level and need, and sorting books in preparation for a drive-through pick up event, held throughout the day. Teachers signed up for 30-minute time slots to read stories to students and record them for later viewing. The school used Title I funding to purchase books and supplies, such as bookmarks, notebooks, pens, pencils, reading trackers, and teacher-created thinking stems to promote comprehension and talking points. Every student received a blue monogramed Swans Creek bag filled with at least eight books to take home and resources to build their reading skills. During the book pick up, teachers selected from the rows of book-filled boxes based on each student's reading level and interest.
Teachers encouraged students to make their own recordings reading or reviewing books of their choice using Flipgrid. Flipgrid is a platform used regularly in elementary schools for lessons and learning in the classroom. The recordings gave students a familiar tool for practicing reading fluency and summarization skills.
"These events have been amazing and really pulled our community together," said Michalewicz. "I loved seeing the students pulling the books out of their bags. There were so many gasps of excitement. My favorite was seeing one of our fifth graders pulling out her books and hugging them so tightly while telling her mother, 'It's Percy Jackson!' which is one of the many book titles we gave out. It was a long day of running back and forth from car to the gym--I got almost 20,000 steps that day!-- but it was worth the preparation and time."