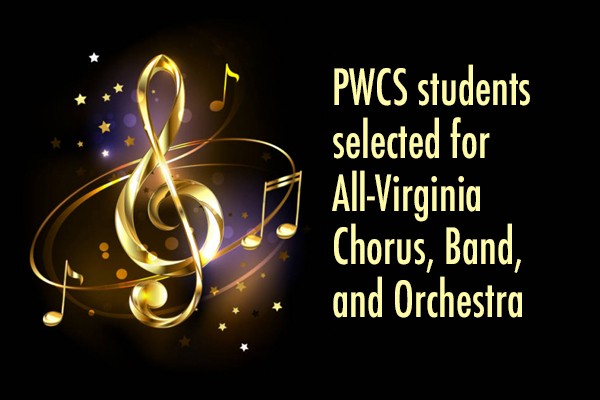 The Virginia Music Educators Association (VMEA) selected 49 Prince William County Public Schools (PWCS) high school students for the 2021 All-Virginia Chorus, Band, and Orchestra.
"Selection for an All-Virginia ensemble represents the highest honor that the Virginia Music Educators Association can give to a student and is an extraordinarily rare achievement," said Dr. Ed Stephenson, supervisor of the arts in PWCS. "It is a testament to the dedication of our music educators, hard work, and discipline of our students, and the steadfast support of our parents."
With this honor, students participate in All-Virginia Chorus and All-Virginia Band and Orchestra events, complete with rehearsals and guest speakers and instructors, between April 22-24, 2021. At the end of May, the All-Virginia Ensembles will come together for a YouTube Live Premiere concert. The exact date is to be announced.
Congratulations to the students selected for the All-Virginia Chorus.
Rachael Kim, Alejandro Molina, Juliana Mugga, and Olivia Skinner from Battlefield High School;
Jessica Brosius, Dawson Farley, Ryan Gilhuly, and Jacob Proirier from Brentsville District High School;
Daniel Pleasant from C.D. Hylton High School;
Kylie Andrews, Emma Balfanz, Timothy Burhouse, Amelia Dunayer, Alicia Foyes, Brielle Kemavor, Caitlin Lohfeld, Adam Mack, Zoe Marle, Jonathan Martin, Sophie Osmani, Becca Rock, Evan Shields, Thomas Stachelski, Emily Stanton, Mogale Stewart, Cole Thomsen, and Jordan Welker from Chares J. Colgan Sr. High School;
Gabe Fulton and Zach Fulton from Forest Park High School;
Brett Barton and Adam Schubert from Osbourn Park High School; and
Chloe Jones from Patriot High School.
Congratulations to the students selected for the All-Virginia Band and Orchestra.
Nikhil Argade, Elaina McKenna, Christopher Wall, and Naomi Wall from Battlefield High School;
Mihir Borah, Kevin Bull, Jr., Madeleine Gabalski, Abigail Gabalski, Cliff Hernandez, Joey Lane, Christian Molina-Galeas, Angelina Seamster, Mikayla Tellado, and Emily Yeh from Charles J. Colgan Sr. High School;
Jennifer Fieffer from Patriot High School;
Justin Arches from Unity Reed High School; and
Vincent Parrish from Woodbridge High School