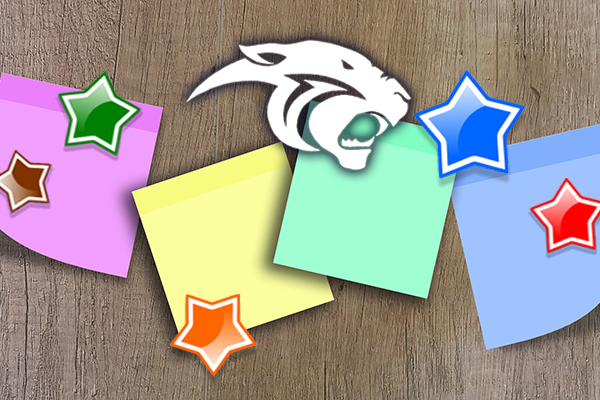 "I am proud of my students for helping one another and demonstrating patience and respect when a peer was having difficulty accessing an assignment in Canvas," said Marc LaRochelle, social studies teacher. "While I was attempting to help, one student unmuted and said, 'I got this, Mr. L.'"
Parkside Middle School Counselor Caroline Young's request to teachers for fun stories or positive highlights received so many responses this year that she created a "brag board" to post them on so she could share them in the school's newsletter, making it possible for everyone to read the heartwarming experiences of teachers.
These examples of responses she has received go a long way toward helping reconnect these dedicated champions to each other and serve as a much-needed reminder that small successes are, indeed, still happening:
"My seventh graders were so enthusiastic to tell the class and I about what they already knew about classical music that they ended up covering most of the lesson! A few even shared Youtube links in the chat to their favorite classical songs! ~Brittany Cassandra, music teacher
"My eighth graders were discussing being faced with a metaphorical bear and when in life it's best to just walk away, and they absolutely did a fantastic job with the conversation. It felt like the first breakthrough with a lot of them this year!" ~Ryan Wicka, teacher of students with learning disabilities
"All three of my classes on Friday were on fire! Without fail, every kid was on target and engaged. There was a lot of laughing, actual conversing (with VOICES!!!), and a lot of fun... but, shhhh... don't tell them they were learning! It was awesome!" ~Erin Gottert, language arts teacher
"I had a parent email me about how excited their student was to participate in my class. We had played "A Time to Climb," [an app by Nearpod, that turns lessons into games], that day and apparently the student came running down the stairs so excited that he had won."
~Amanda Griffith, art teacher
"After what I considered to be a bad day, because of tech issues and lots of unexpected things happening, I received an email from a student asking for the homework and thanking me for teaching him. :)" ~Christine Patterson, ESOL teacher