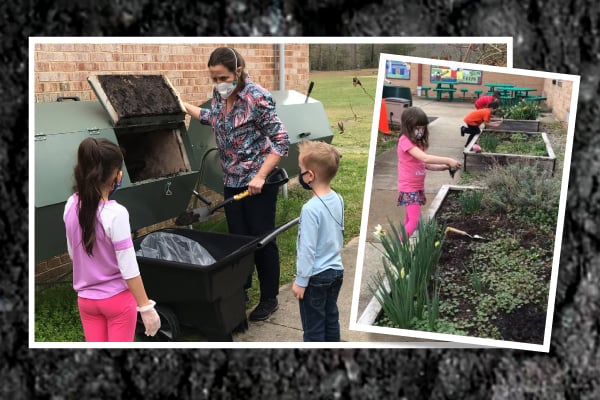 A hands-on lesson at Coles Elementary School has plants thriving from student-created compost. Students learned how organic food scraps are recycled to create compost. The composting program is the first of its kind in PWCS.
Starting December 2019, the end of lunchtime at Coles Elementary looked a little different for fifth graders as they began to place their organic food scraps in a marked barrel. Apple cores, orange and banana peels, and various other bits were collected, then placed in tumblers outside of the school. Handfuls of dirt and brown leaves were added to the mix. In the following months, fourth and third graders joined the initiative. Second graders started collecting their organic waste in what was to be a schoolwide program when schools were closed due to the pandemic.
Kathryn Forgas, principal, continued to visit the school and turn the tumblers through the spring and summer months. Ramona Richardson, kindergarten teacher, took over the task in late August.
"Right before spring break, we opened the compost tumblers. I'm not going to lie; I was unsure of what I would see. Some students threw away entire oranges and apples which were part of their lunch, but they chose not to eat them. I had my doubts that those oranges would decompose. Nothing else was added to the tumblers since March of last year. The compost that came out was without a doubt nutrient-rich soil. All of those food scraps recycled and converted to a finished compost," Richardson shared.
Spring flowers, raspberries, strawberries, asparagus, mint, lamb's ear, and milkweed are growing in gardens fed by the student-created compost on the school grounds. Soon the compost will help lettuce, carrots, potatoes and peanuts grow.
"The students love working in the gardens and watching the plants grow. We are keeping science observation journals, so they really notice the changes and growth in the plants," Richardson said.
Jacob, a kindergartener, said, "We get vitamins from our vegetables and fruit so it makes sense that the plants would get those vitamins when we compost." While classmate Sammie said, "It's great to help the earth and we are making less trash."
The School Division's Office of Energy Management and Sustainability provided funding for the two industrial-sized composting tumblers. Daniel Buongiovanni, now a senior at Charles J. Colgan Sr. High School, organized and led his scout troop to assemble the tumblers. He also created the flyers that were posted on the barrels to remind students which foods can and cannot be collected. His contributions were part of his Eagle Scout project for the Boy Scouts.
Students share more information in this
video
that was produced last school year.