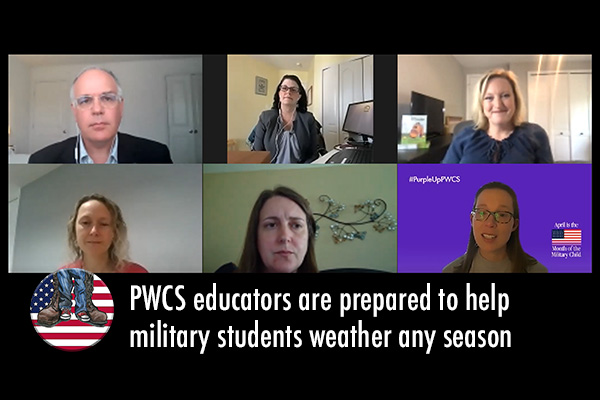 Military-connected students change schools an average of six to nine times during their academic careers. These transitions can lead to many unique challenges as well as opportunities. Courtney Power, PWCS Purple Star Division point of contact, recently led a professional development course for educators and central office staff to discuss practical ways they can support and encourage military-connected students and families.
Participants read and discussed the book "Seasons of My Military Student," by Dr. Amanda Trimillos and Stacy Allsbrook-Huisman, which explains the various seasons of military-student life, along with hallmarks of those seasons. A military-connected student in transition will go through a season of arriving, growing, thriving, and leaving. Additionally, the book discusses storms in any season such as deployment or loss of a parent.
"As a mother of military-connected students and as a teacher, I felt like the 'seasons' analogy was on point. I also learned a lot about the hurdles of secondary education, such as transferring courses and credits, and I now know what I need to do to support my own children and students in the future," shared participant Melissa Bloomrose, International Baccalaureate primary years program coordinator at Antietam Elementary School.
The guided book discussion took place over four weekly sessions. The fifth and final session of the course was a question and answer panel with local and state experts in the area of military student support. In attendance on the panel was Dan Dunham, Virginia Department of Education military student and families specialist; Stacy Allsbrook-Huisman, book author; Penny Rowley, Marine Corps Base Quantico school liaison officer; Jamie Albers, Fort Belvoir school liaison officer; and Shelly Oberst, military family life counselor.
Panelists were asked to share favorite resources to support the military community as well as advice for educators on how to support military-connected students.
Dunham shared "I am here to support you, in the field, that are doing the hard work of supporting our military-connected children and learning about the things that you are doing and celebrating them along with you."
While this training was focused on military-connected students, participants discussed how the tips, techniques, and strategies discussed could be applied to any student in transition regardless of if they are military-connected.
Michaella Beatty, professional school counselor at C.D. Hylton High School, stated "Participating in this book study PD, has given me language to better understand and help my military-connected students. It introduced me to new concepts, as well as provided me with concrete tools to implement for military kids as well as others."