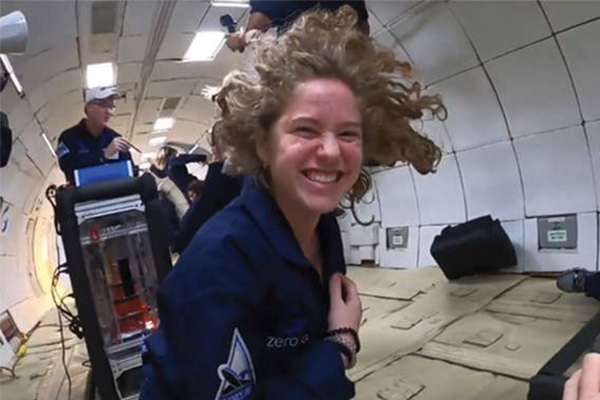 The Society for Science named Forest Park High School senior Eleanor Sigrest one of the top 40 scholars in the 2021 Regeneron Science Talent Search (STS), the nation's oldest and most prestigious science and math competition for high school seniors. Sigrest was selected from a pool of 1,760 applicants from 611 high schools across 45 states.
For this competition, students submitted original research in important scientific fields, and then, their work was judged by leading experts in that field.
"I heard about Regeneron Science Talent Search when I was competing at Broadcom MASTERS in seventh grade," said Sigrest. "I remember middle-school-me being so excited there was a 'high schooler's' version of Broadcom MASTERS, and I've been dreaming about attending STS ever since."
Sigrest submitted research titled "'Can You Hear the Empty Spaces?' - Improving Spacecraft Efficiency and Capability Through a Novel Microgravity Fluid and Slosh Management Technique". The project focuses on slosh, the unwanted movement of fluid in a tank that can lead to spacecraft mission failure.
"I flew on a parabolic flight to create microgravity conditions to conduct my experiment," shared Sigrest. "My result showed significant reduction in settling time, the time it takes for the fluid to stop moving, for tanks with custom surface energies and demonstrate a successful method to reduce or eliminate traditional slosh management subsystems. There is a patent pending on my method."
With this honor, Sigrest participated in a virtual competition from March 10-17. In addition, she had the opportunity to interact with leading scientists and publicly display her research during a virtual event on March 14.
"I [was] extremely humbled and excited [to participate]! Regeneron Science Talent Search is an amazing opportunity to grow a network of like-minded people who are passionate about solving the world's hardest problem," said Sigrest. "I [was] also so excited to share my research and receive feedback since STS is a place where students are encouraged and treated as professional researchers."