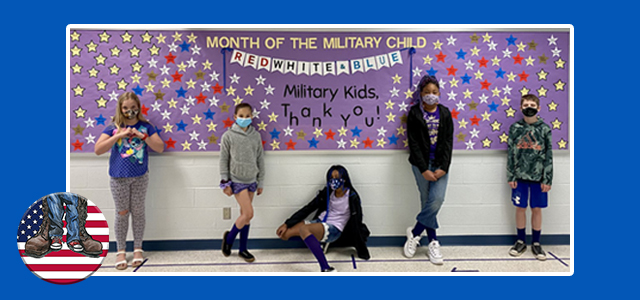 "Leaving your friends is hard," said Mara.
"It feels weird being at a new school," shared Pythia.
Both children are among the many military-connected students at Henderson Elementary School. The hardships they face are sometimes difficult to understand for those who have never lived a life connected to the military.

According to other military children at the school, the experience isn't always bad. "I like going to different places and experiencing new things," said Madyson. "You get to go on base," shared Kennedy. "You get to move all over the world," said Miles.
As part of April's designation as the Month of the Military Child, Henderson Elementary School staff celebrated their military-connected Huskies with activities focused on recognizing and appreciating the many challenges that military children endure.
Teachers used a school Canvas page loaded with facts, activities, and virtual books about military youth as a resource for students during the month. Staff decorated a bulletin board in the hallway with the names of all military-connected students at Henderson Elementary and the qualities, such as resilience and adaptability, that make each child special.
"Taking the time to celebrate military-connected students and all that they have been through helps them feel seen and validated," said Suzanna Erlichman, a Henderson Elementary school counselor. "It can give them self-confidence."

Erlichman noted that military youth face a host of challenges including multiple moves, new schools, temporary separations, parental injury, parental mental health issues, and more. "Even just one of those things can impact a child's growth and development, but military-connected students often experience more than one on a regular basis," said Erlichman.
For this year's Purple-Up! Day, a nationally recognized day in April that celebrates military youth, Henderson staff and students showed their support of their fellow military-connected Huskies by wearing purple socks provided by a Prince William County Public Schools Department of Defense Education Activity military grant.
"Our kids loved the socks and it made them feel very special to have received this gift from the county," said Erlichman.

While the Month of the Military Child may be in April, Erlichman is quick to point out that the effort to support military students at Henderson doesn't end with the month.

"We check in with our military students throughout the year, communicate with parents, provide resources and opportunities specific to military-connected students, and provide them with the support they need for any transitions they face," Erlichman shared. "When our students step in our doors, they are Huskies," she added. "Whether they stay with us all six years or just six weeks, we value them, we understand their experiences, and we want their time with us to memorable and impactful."