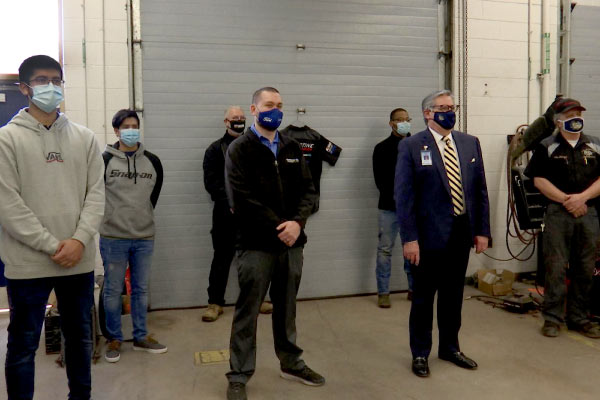 Each year, students in the Auto Technology Program at C.D. Hylton High School compete in state and national competitions that award scholarships to the winning students. Last year, due to COVID-19, many of those competitions were canceled. However, Ed Stevens, auto technology teacher, found another way for his students to receive scholarships.

Stevens developed sponsorships with local businesses to help support the competition teams. He had some sponsorship money left over from last year and had an idea of how to help his students. Stevens contacted the sponsors to ask if he could use some of the money for scholarships directly and would still have enough money for half of the sponsorships for this season. Thanks to sponsors Lustine Motor Sports, Sauer Compressors USA, and Cowles Ford, three 2020 graduates, Carlos Molina, Jhalmar Rivera, and Braxton Tate, each received $1,000 for their post-secondary education. All three now attend Advanced Technology Institute in Virginia Beach.

Superintendent of Schools Dr. Steve Walts attended the ceremony to congratulate Stevens on the success of the Auto Technology Program and to the students for their hard work and continuing education.

Dr. Walts shared with the audience, "It's always great to see our former students come back and to know that you are taking what you have learned here and building on that."
He also thanked the business partners for their continued help and support of the program.