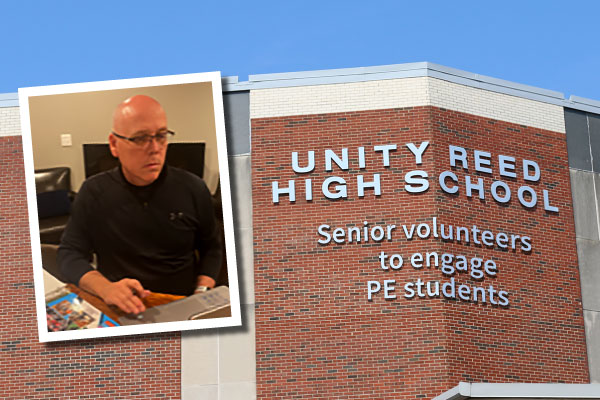 The current global pandemic has changed the face of education. While adapting to a virtual environment is slightly easier for some courses, those that are hands-on have demanded innovation and creativity in order for students to succeed. Driven by different motivations but sharing the same goal, Lawrence (Randy) Muster, a physical education teacher at Unity Reed High School, and student volunteer, Ronald Villatoros Ortiz, showed ingenuity and determination in meeting the dual needs encountered in physical education classes.
With a large English learner population, Muster had to both adapt his class to an online-learning environment and ensure that his students were able to fully participate in class despite language barriers.
"An interpreter is assigned to the class; however, the addition of a peer to assist to bridge the gap has provided the extra spark that is creating a more engaging environment," explained Muster.
With the assistance of Ronald, currently a senior at Unity Reed, Muster has transformed his way of teaching and is providing a class that has exceeded his own expectations of what could be done in online physical education. Ronald graciously volunteered his time and bilingual skills to help his peers amidst his own senior year schedule challenges and preparing for post-graduation life.
"The experience I had was really great, at first it may have been a little nerve-racking, but once I started making that connection with the students and teacher, it felt really good to help out," said Ronald. "[The students] were also starting to get a stronger connection with their teacher through the translation I was giving them, and this really created a really good positive impact such as more assignments being completed from students and a lot more passing rates on exams."
Ronald's decision to volunteer was fueled by his desire to leave a mark and create a change. He has witnessed people struggle to connect with each other and knew that if he could make that small contribution of his time, communication between teachers and non-English speaker students would grow a lot.
"I want to make an impact in our community," explained Ronald. "I had a dream to establish a program -- just as ESOL has its purpose to help those in need to learn English. I wanted to create a program where students could participate as translators, which are really needed in our society, and also help the students in need of the translation. I really appreciate the experience I earned from volunteering."