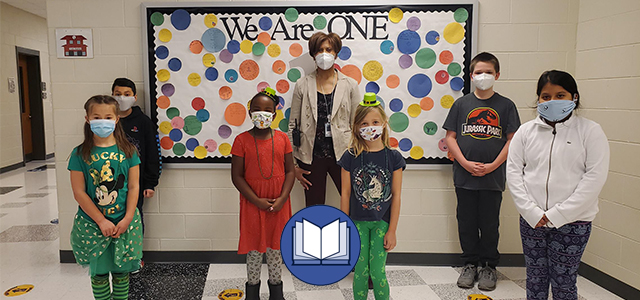 King and Chris Yung Elementary Schools hosted One School, One Book events. The initiative encourages schools to host read-alouds of the same book for all students and create a schoolwide reading experience. The teachers and staff at King and Chris Yung Elementary incorporated several activities that emphasized key lessons from the books that were shared.
Students at King read "Fenway and Hattie" by Victoria J. Coe. The book is written from the point-of-view of a Jack Russell terrier dog named Fenway who moves from the city to the suburbs with his best friend, a child named Hattie. The book was recommended to Pamela Lansberry, school librarian, who explained that the book is appealing to all elementary grade levels.
Each night for a month, the school met on Zoom, where guest teachers read a chapter. But, to kick off the event, Brittany Lames, a local animal control officer, read the first chapter and shared information about her job.
When given the chance to ask questions, a student asked, "What was the strangest animal that she had to help?" Lames explained her experience with rescuing a large turtle.
On Thursdays, the Zoom meetings included a family fun night with activities for students. Third-grade teacher Jennifer Dittamo hosted a science, technology, engineering, and math (STEM) lesson. Lansberry hosted a trivia night and Raven Tray, the art teacher, showed students how to draw the evil squirrel that pestered Fenway in the book. On the final fun night, the book's author joined the Zoom session to answer questions from students.
Lansberry explained, "We are always looking for ways to spread the joy and love of reading. When we all are sharing a story, it makes it so much fun to read and make predictions about what is going to happen next. We are also hoping that we are reminding everyone how it is a nice habit to take time out each night to read together."
In honor of Fenway, the King community also collected donations for the local animal shelter.
At Chris Yung, the initiative was used to meet the criteria for recertification as a No Place for Hate (NFPH) school. Chris Yung first became an NFPH school in the 2018-19 school year.
"The NPFH program is totally aligned with our mission and vision for our school. We are a school that focuses on character and education, and we are a positive behavioral interventions and supports (PBIS) school. These programs and initiatives are all aligned with the goals of treating everyone with respect and being an inclusive school where everyone is welcome," explained, principal, Kathy Notyce.
The "One" by Kathryn Otoshi is among the numerous books recommended by NFPH to help teach students about embracing diversity. Classroom teachers read the book to their students and prompted discussion. Students were asked to respond to a writing prompt that encouraged them to share why they count and how they can include others.
Librarian, Betsy Masterson, shared, "Faith Broome, our art teacher, came up with the idea of students creating a kindness quilt. The Quilters of Gee's Bend were selected as the focus artists. Students used geometric scraps cut from leftover clothes, recyclable materials, or paper to create their square for the quilt. Students then either painted or collaged their piece of the quilt,"
Kaitlin Chidester, the science, technology, engineering, art and math (STEAM) coach, created a challenge where students used boxes to convey individuality. Boxes of different shapes and sizes could be changed or added to as long as they represented the uniqueness of the student.
Elizabeth Harrison, fourth grade teacher and the co-chair of the Chris Yung NFPH committee said, "I have seen great benefits. The students feel a sense of belonging and community. They understand that while we all have differences, those differences should be honored and respected. NPFH has a wonderful message that we are trying to teach our students, and I am so glad to be a part of it."