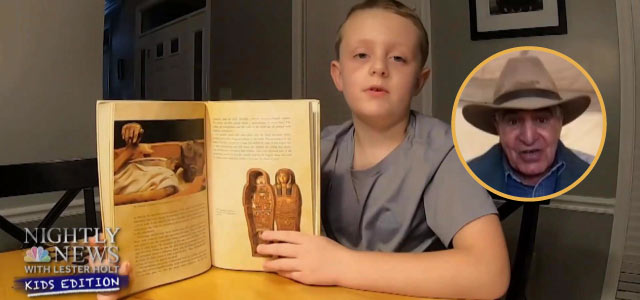 Egyptology, mummies, and ancient board games -- these are some of the unique interests for Owen Beckstrand, a fourth-grade student at Rosa Parks Elementary School. When he was younger, Owen's mom would read him stories about Egypt and ancient civilizations. This interest led Owen to talk with world-renowned archeologist, Dr. Zahi Hawass, the former Minister of Antiquities in Egypt, on "NBC Nightly News with Lester Holt, Kids Edition."
The unlikely opportunity for Owen to meet Hawass began at an even more unlikely place, a Cub Scout meeting. Owen and fellow Cub Scouts were learning how to make board games at a scout meeting. Owen wanted to know what the oldest board game was. That game is called Senet, and dates to ancient Egypt circa 3100 BC. Owen and his dad researched and made a Senet board game he and his family can play.
Owen then wanted to know about the second oldest game called the Game of 20. He and his dad and mom saw how to build the game from the internet but could not find out how to play it. His dad suggested that Owen continue researching it online. This is when he learned about Hawass. Owen searched Hawass' website and emailed him requesting information about Senet and the Game of 20.
Hawass was filming a segment for "NBC Nightly News with Lester Holt, Kids Edition" in Egypt at the time. He thought it would be nice to include Owen on his newest discovery. Hawass had just uncovered a child mummy in Egypt that coincidently had a Senet and Game of 20 in the tomb with him.
The NBC producers connected Owen and Hawass via Zoom where Owen was able to ask Hawass questions about ancient Egypt and the games. This interview became part of the NBC News story. Hawass was impressed with Owen and told him, "You are going to become the youngest Egyptologist in the world!" When asked if he wanted to be an archeologist someday, Owen said," Yes, I like to find things."
Owen has found a friend and mentor in Hawass, who said that he would like to meet Owen and his family the next time he is in Washington, DC.