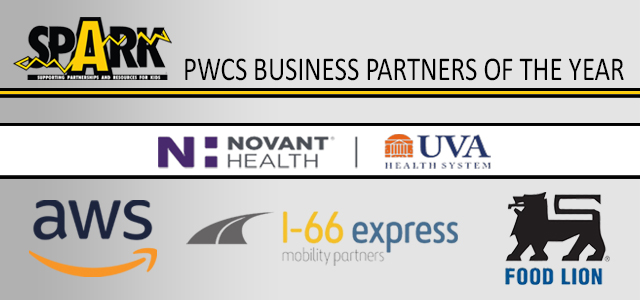 At the Superintendent's Business Breakfast, PWCS and SPARK honored Novant/UVA Health Systems with the Sharon Henry Community Partner of the Year for 2021 for their coordination of COVID-19 vaccination locations serving the Greater Prince William community.
Each year, SPARK works closely with business leaders in the community and Prince William County Public Schools and its departments, to identify business and community partnerships making the most positive impact on academics and student achievement.

PWCS and SPARK also presented the Partnership of the Year award for 2020 to Amazon Web Services (AWS) in partnership with River Oaks Elementary School, Food Lion Store #1249 in partnership with Forest Park High School, and I-66 Express Mobility Partners in partnership with the Office of Student Learning, Science and Family Life Education.

AWS and River Oaks Elementary collaborated to empower students to become knowledgeable, engaged citizens, and innovators. To do so, they established the world's first AWS science, technology, engineering, arts, and mathematics (STEAM) Lab called the Think Big Space. This space provides students from all over the Division access to learn about augmented reality, artificial intelligence, machine learning, coding, and robotics.

Food Lion and Forest Park High's partnership has provided students the opportunity to understand work-place readiness skills and how they are actualized in the real world. From mock interviews to practice job applications, this partnership aims to help students prepare for their Workplace Readiness Industry Certification. Since the partnership began in 2017, the Workplace Readiness Industry Certification pass rate at Forest Park has increased by 30 percent.

I-66 Express Mobility Partners partnered with PWCS this past year to sponsor the Prince William-Manassas Regional Science and Engineering Fair. The sponsorship was part of a more than $30,000 donation to the Division for STEM educational efforts. The partnership aims to strengthen the quality and quantity of student participation in future Science and Engineering Fairs as well as support the growth of STEM education in elementary schools.
"SPARK is truly grateful for the continued support of our business partners. This year's recipients exemplify community outreach and support for our PWCS students and teachers," said SPARK Executive Director Dawn Davis.