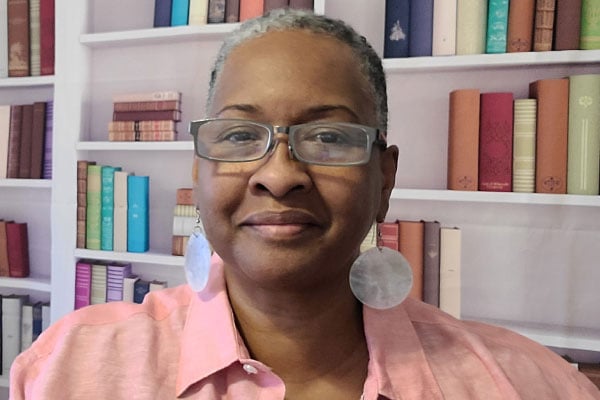 April Barrett, reading specialist at River Oaks Elementary School (ROES), works tirelessly to build a reading culture and love for literacy with everyone she meets. On International Literacy Day, she hosted a virtual "Global Literacy Advocates" conference that brought together educators and reading enthusiasts from near and far. Attendees shared their collected knowledge "through the lens of literacy learning," discussing a variety of topics and resources around reading, literacy, and learning for every age and level, with a goal toward building an established group of mutually supportive literacy lovers. Participants included Barrett; Elizabeth Davis, PWCS supervisor of English language arts; Virginia children's author, Ginjer Clarke; Mathias Tulasi, chief executive officer (CEO) of Literacy Ambassadors, in Ghana, Africa; Dr. Stefania Forte, executive director of the Stefania Forte Education Foundation for Liberia/Ghana; and Talia Kovacs, CEO of LitLife, from New York, among others.
"Each year I organize Destination Dolphin, One-Book-One-School, an annual writing contest, literacy spirit week, guest author visit, guest readers, book character parade, vocabulary parade, book club, boys book club (for reluctant readers), World Read-Aloud Day, and International Literacy Day," said Barrett. "Each event is arranged to support teachers and empower students to participate in fun reading and writing activities throughout the school year."
Most recently, Barrett coordinated a visit from a very special guest, Tonya Duncan-Ellis, the author of the Sophie Washington children's book series. "Sophie Washington: The Snitch," was River Oak's selection for its recent One Book, One School® event, a program of "Read to Them," a nonprofit organization that promotes family literacy by supporting school-home connections. Barrett used this to launch a month's worth of activities to promote reading and comprehension for students.
"This was the first time that our students met the author of the book we read. What a special treat!" said Barrett. "The author session allowed our students to freely exercise their curiosity cravings in a comfortable school community setting. The read-alouds gave students opportunities to capitalize on learning about story elements, character traits, and problem solving, and it allows them to enjoy reading a fun, realistic, fiction book as a ROES school community. Activities such as our ROES
One Book, One School®
read aloud are a vital part of literacy learning for our students."
Thanks to an award-winning business partnership with Amazon Web Services (AWS) through the school's Think Big Space, every River Oaks student was able to take home a copy of the book to keep, as did the staff. Think Big Space is the world's first AWS science, technology, engineering, arts, and mathematics (STEAM) lab that provides students from all over the School Division with a space and access to learn about augmented reality, artificial intelligence, machine learning, coding, and robotics.
Barrett is part of a military family and came to this area in 2000 after a two-year term in Germany, beginning as a teacher in PWCS and transitioning to the role of reading specialist in 2014 after earning her master's degree as a program specialist in reading. As Barrett states, she wears many hats. In addition to her role as a reading specialist, she mentors other reading specialists and presents to teachers at Division events and, on occasion, at Shenandoah University. She even has her own free website, Academic Breeze, which provides teachers and parents with lessons and activities to help children learn.
"Facilitating activities remotely has unearthed new tech platforms, elevated my craft, enhanced my creativity, challenged my educational philosophy, and expanded my practices," said Barrett. "Our school has made great strides. We have moved progressively to earn School of Excellence in our district, and currently we are a VDOE Exemplar Performance school. As the literacy leader, I have worked tirelessly to team with administrators, teachers and staff to build a culture and love for literacy through the various programs, activities, and initiatives. I am so grateful that our principal Aerica Williams is invested in our students, and she has encouraged and supported me along the way. Also, our amazing teachers and students have been receptive and have engaged in this constructive literacy learning journey."