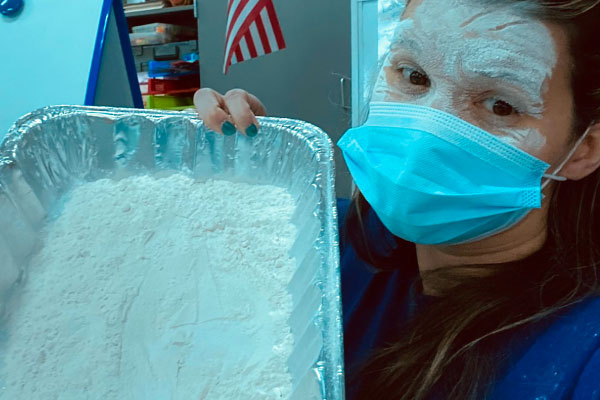 A fun activity in Nathalie Crawford's first-grade class at Marshall Elementary School not only served as a great way to review math skills, but it also showed that flour can be used for more than baking tasty treats. The flour challenge math review had Crawford dipping her face into a pan of flour, much to the delight of her students.
Crawford uses social media as a source to find ideas that will make her students excited to learn. She saw the flour challenge being used by teachers in other curriculum areas and thought that it would work perfectly for her students' review of math fact fluency. Each time the students answered correctly, Crawford would dip her face into a pan of flour.
"If the student I called on missed the question, we would ask a friend or work out the problem together, then I would dip my face in flour once the correct answer was given. I tried to make it as fun and positive as possible by ensuring that I would dip my face in the flour for each problem, that way students wouldn't feel upset by missing the problem," Crawford shared.
"They are asked to solve equations in different ways (horizontal, vertical, and with the equal sign first). So, getting them familiar with the variety of ways to solve a math problem is key," Crawford explained.
At one point during the review, the students were telling Crawford how they wanted her to dip her face into the flour because they wanted her entire face covered with flour. One student said, "I thought it was silly, but it helped me remember the math problems and made me giggle."
The exciting activity shows that flour is not only good for making tasty foods but good for first-grade math review too.