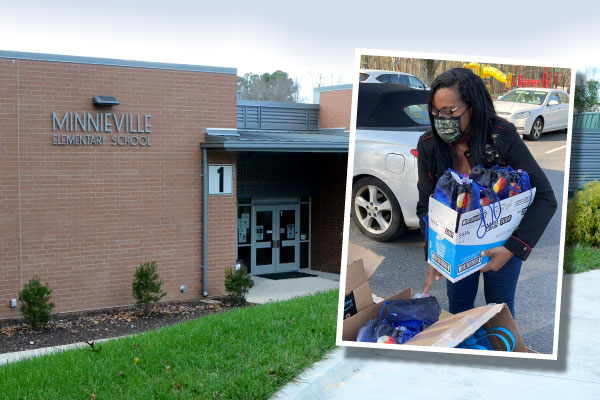 It's Saturday morning and Minnieville Elementary School students are hard at work building robots, listening to guest speakers, and conducting science experiences, all in the virtual world. These enrichment activities began well before the pandemic with in-person Saturday field trips and science technology, engineering, arts, and math (STEAM) experiences for the students. It's all thanks to a community partner who donates supplies and personnel to support the students' Saturday morning learning experiences.
"The Links, Incorporated Old Dominion Chapter started a National Society of Black Engineers junior chapter at our school three years ago," said Deborah Ellis, principal at Minnieville Elementary. "They have been amazing," she added.
Currently, members of the community organization drop off STEAM materials during the week before the Saturday sessions. Parents then come to the school to pick up the materials so their child can participate from home, virtually.
"Students have the opportunity to provide their evaluations of each Saturday session," said Sheila Garnett, a program co-coordinator with The Links, Incorporated Old Dominion Chapter. "The data collected from ongoing student evaluations of the program suggest that their knowledge and interest has increased," she continued.
"Our community partnerships compliment and supplement our academic curriculum with a wider range of services and activities, particularly enrichment and arts activities, that are not available to students during the school day," said Ellis. "Our community partnerships plant seeds that will one day be harvested and lead to pursuits of higher education opportunities and successful career paths for our students."
"A natural bond has formed [between Minnieville and The Links, Incorporated,]" said Garnett. "The partnership is an opportunity to intersect common goals for optimal outcomes so that students and their families can excel," she said, adding, "We hope the students will become lifelong learners and that their interest in STEAM careers continues."