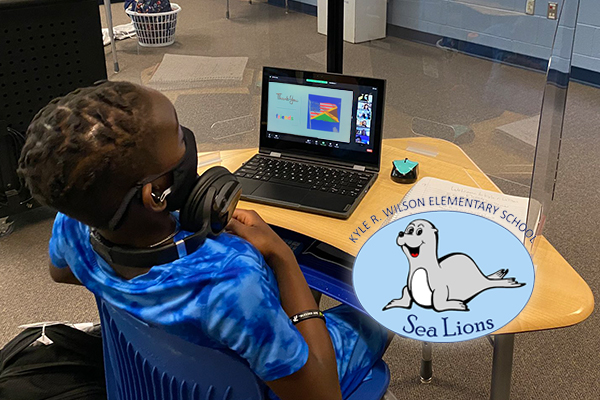 In Kerron Miller's fifth grade classroom at Kyle Wilson Elementary School, a large Jamaican flag hangs behind her desk. Miller enjoys teaching her students about her native country.
Before starting her career with PWCS in 2019, she was a teacher at Hillel Academy, an international school in Kingston, Jamaica, where she taught fifth grade for five years and sixth grade for two years. Miller continues to foster a relationship with teachers at her former school through sharing ideas. The connection offered the opportunity for Miller to expose her students to an international literature lesson.

A virtual group lesson with Carol Levy's fifth grade class at Hillel Academy started with the students sharing information about their schools, then a student from each class read a common folktale from their culture. Kyle Wilson Elementary students shared a tale about Johnny Appleseed and Hillel students read a folktale featuring Anansi the spider.

"This activity encourages a partnership between fifth graders in Jamaica and the USA sharing an aspect of culture that we both have in common, storytelling. Students should see that we all have similarities and that folktales can be found in various cultures all over the world. There is also the hope that students learn to appreciate other cultures," Miller explained.

After sharing the folktales, students talked about the weather and what attending school has been like during the pandemic.

Nathen Shaw, a student in Miller's class said, "I enjoyed the cultural exchange and listening to the various accents of Hillel Academy students." Classmate Ariana Leonard shared, "It was super fun to see students in another country at school just like me."

Miller and Levy plan to begin an e-pal program where students exchange emails. The teachers hope the students will discover and appreciate cultural differences and similarities while learning more about their international friends.